Since Hooks and Frank were busy looking at one Free Agent to be at a time, I figured I'd put together a proposed Free Agency plan for the off-season that combines it all.  TonyAndrock did a good first look at both NHL and AHL options about a month ago--it's worth another look before going further.  So is Hooks' breakdown posted earlier this morning, assessing the possibility of a Jagr signing and how the Pens should handle the need at RW.
Let's start out by understanding that the NHL is only one year away from a new Collective Bargaining Agreement, which could radically change the current Salary Cap system.  The way things are right now, the average salary over the course of a contract counts toward the yearly cap number. I doubt this will change, given the fact that a number of teams have severely front-loaded some large contracts based on this rule.
So what should the Pens do within the confines of the $64,300,000 salary cap for next season?  Well, Mr. Shero, I have your answer.
First up, here's the currently signed roster, as I'd imagine the even-strength lines:
FORWARDS
| | | | |
| --- | --- | --- | --- |
| | LW | C | RW |
| 1st: | Kunitz | Crosby | Neal |
| 2nd: | | Staal | Malkin |
| 3rd: | Cooke | Letestu | |
| 4th: | | Adams | |
DEFENSE
| | | |
| --- | --- | --- |
| 1st: | Orpik | Letang |
| 2nd: | Martin | Michalek |
| 3rd: | Lovejoy | Niskanen |
| | Engelland | |
GOAL
The roster shown above represents a cap hit of $55,541,667.  This would leave the Pens with a projected cap space of $8,758,333.
An NHL roster generally has 23 signed players on it. The Pens currently have eight forwards, seven defensemen and two goaltenders under contract for next season. No need to do anything at D or G with this roster, so the only need is at forward, and most specifically, at wing.
Before anyone brings it up, I'm not including Eric Tangradi on the Pittsburgh roster.   Why?  First, I'm not sure Tangradi wouldn't benefit from starting the season in WBS, getting big minutes on a scoring line before being called up later on to fill in for an injury.  Second, as described below, there are better, surer options on the market for a scoring winger--particularly a badly-needed right-handed one.
RESTRICTED FREE AGENTS
Let's start with the Pens' list of pending Restricted Free Agents first, since they're usually the easiest, cheapest, and most valuable to sign for a three year contract.
'10/'11 Stats Line:  80 GP - 21 G - 24 A - 37 PIM.  Made $725,000 last season.
Kennedy finally decided to become a decent scorer in the absence of any other threats on the team late in the season and in the playoffs, and it'll pay him well.  Oh, and he's a right-handed shot.  Problem is, he may now be priced out of what the Pens want to pay.  On the RFA market, he could probably land at least $2M/yr, based on this year's numbers.  I expect an offer sheet on the table for Kennedy in that range.  Look at recent comparisons: Vladimir Sobotka just got 3 yrs @ $1.3M/yr  with STL after scoring only 7-22-29 last year, though he's also a good penalty-killer.  On the other end, Andrei Kostitsyn - he of the eerily similar stats to Kennedy - just got another 1-yr, $3.25M deal from Montreal 
So the question for Shero is this:  Would you take a 2nd round pick in exchange for letting Kennedy go and getting the cap space?  The answer is probably no.  Let's pencil in Kennedy for $2.4M/yr over three years.  Kennedy will get his shot on a scoring line next season, but If nothing else, you know he could at least play worthwhile third-line minutes with Letestu, racking up another 15-20 goals and 35-40 points.
[Edit:  Since Shero decided not to make a qualifying offer, I'm going to take Kennedy out of the mix here, because he's going to get more than he's worth on the open market.  I don't agree with this decision, but that's why I'm a lawyer and not an NHL GM.]
'10/'11 Stats Line:  25 GP - 7 G - 5 A - 4 PIM.  Made $500,000 last season.
This is as no-brainer as it gets in my book.  May not have huge offensive numbers in his short time in Pittsburgh so far, but he's shown the ability to step up.  Was playing 15 mins. a game, PK and PP time when he got injured.  But he's not suited to a 4th-line center role. So Jeffrey's best bet is to learn how to play RW on the third line, taking Kennedy's former place alongside Cooke and Letestu, and filling in down the middle when the need arises (and we hope it doesn't this season). Tangradi might get bumped to fourth-line duty as a result, but I think he's a better fit for the fourth-line than Jeffrey. Probably gets a 3-year deal at about $600k/season.
UNRESTRICTED FREE AGENTS

Now on to the Unrestricted Free Agents. After slotting Kennedy and Jeffrey as 2nd and a 3rd-line winger, we're looking at adding three more 3rd/4th-line forwards within the grand total of $8,158,333.  And here's where things get tricky.
Mike Rupp
'10/'11 Stats Line:  81 GP - 9 G - 8 A - 124 PIM.  Made $850,000 last season.
Mike Rupp's stats don't stand out to anyone.  He doesn't penalty kill much, and he's barely ever used on the power play unless Chris Kunitz is hurt.  So why should Mike Rupp be resigned?  Toughness and versatility.  Playing less than 10 mins. per night, Rupp still dished out 181 hits last season, and had 12 fighting majors.  Go ask Sidney Crosby whether Mike Rupp should be resigned.  He played in all three forward positions from the 4th line pivot all the way up to Jordan Staal's 2nd line winger--and didn't look out of place in any of those spots.  Ray, give the man $900k for one more season, please.
Max Talbot
'10/'11 Stats Line:  82 GP - 8 G - 13 A - 66 PIM.  Made $1,050,000 last season.
Let's be honest: Last year was a bit disappointing for Talbot. We all figured that a full, healthy season would see him get back to the '09 Playoffs version of Max Talbot.  But it just didn't happen.  Talbot seemed to fall down at some point during every shift, and wasn't creating the havoc we were used to seeing.  His playoff series was decent, though.  Everyone seems to think Talbot's on his way out the door, but I'm not so sure.  Let's not forget the PK minutes he played, second only to Adams last year on the top-ranked unit.  Because his numbers don't wow anyone, I don't know that Talbot makes more than $1M next season somewhere else.  At that price, I'll keep him for two more years, even if he doesn't play a minute until mid-April.  You know, right about the time Alex Semin's more interested in his car than hockey.
Aaron Asham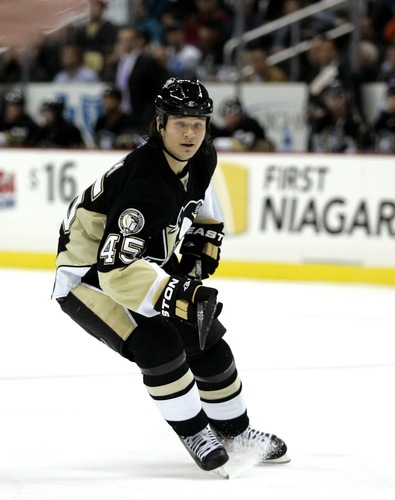 '10/'11 Stats Line:  44 GP - 5 G - 6 A - 46 PIM.  Made $700,000 last season.
You're probably scratching your head. Aaron Asham? Really? Yes, really. Look at it this way: If Eric Godard isn't coming back next season because we need to have someone that can play more than 5 mins. a night in this final roster spot, we're going to need another guy who can physically deter any cheapshots in Crosby/Malkin' direction. Asham's my choice here. Because of his early concussion, Asham never got to show that he's actually a solid, grinding, puck-possession forward--much like Mike Rupp. Three goals in the Pens' three wins over TBL convinced me that he's worth bringing back for another season. Because of the injury, Asham will come at Craig Adams' price, if that. I'll go with $600k here.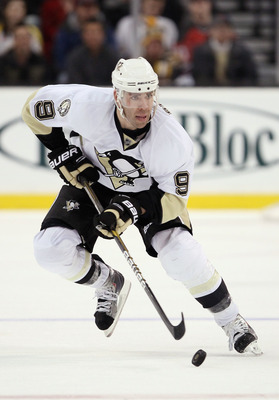 '10/'11 Stats Line:  81 GP - 17 G - 20 A - 59 PIM.  Made $1,900,000 last season.
Another year of exactly what we expect from Pascal Dupuis.  Massive penalty killing minutes and a warm body on Sidney Crosby's right wing.  Let's leave no doubt in anyone's mind that, in a perfect world, Pascal Dupuis would be in a Penguins sweater for the next two years.  As a UFA, I think Dupuis' going to command around $2M/yr for three years.  He's worth every dollar of that, if you ask me, but it doesn't fill a glaring hole for the Pens--a RW that can put pucks in the net without completely relying on Crosby to generate chances.  Given that and the possibility of Dupuis' productivity going downhill with age in a year or two, I'm going to pass unless I get a serious hometown discount (which probably won't be coming).
[Edit:  Dupuis was signed for $3M over 2 years.  Score one for Shero.]

Eric Godard
'10/'11 Stats Line:  19 GP - 0 G - 3 A - 105 PIM.  Made $750,000 last season.
This is a tough guy to let go of. And I really do mean "tough." Shero's already said that he's not bringing Godard back, and I know why.  Eric Godard is a top-flight heavyweight when it comes to NHL enforcers. But when Jody Shelley's averaging $1.1M/yr, someone else is probably willing to throw way too much money at a guy whose on-ice impact is few and far between. That's right, I'm talking about you, Glen Sather.
'10/'11 Stats Line:  60 GP - 7 G - 9 A - 10 PIM.  Made $550,000 last season.
Chris Conner's a good player in this system, because he's a really good forechecker with excellent speed and backchecking ability. The problem is, he's not adding two things that would separate him from Asham, Rupp, Tangradi and Talbot for a roster spot: toughness and a willingness to mix it up. I respect Connor's game, and if he's willing to take a two-way deal, I'm happy to sign him for another $550k/$105k deal with the expectation that he'll jump back-and-forth regularly from WBS as injuries inevitably take their toll.  But let's start him in WBS, hence, off the Pittsburgh roster for now.
I'm wasting my time even mentioning both of these guys.
After all that, here's what my roster looks like up front:
FORWARDS
| | | | |
| --- | --- | --- | --- |
| | LW | C | RW |
| 1st: | Kunitz | Crosby | Dupuis |
| 2nd: | Malkin | Staal | Neal |
| 3rd: | Cooke | Letestu | Jeffrey |
| 4th: | Rupp | Adams | Asham |
| | | Talbot | |
All of that, plus my 7 defensemen and 2 goaltenders for the low, low, under-the-new-cap price of $60,641,667 $60,141,667.  Not a bad day's work, eh?
MARKET OPTIONS
So now we need one more winger to fill out the roster, preferably a right-handed RW that can play on the man advantage along the left wall [Edit: and play top-6 minutes].  And we have exactly $3,658,333 $4,158,333 to do it.  Here are my best options, in order of preference: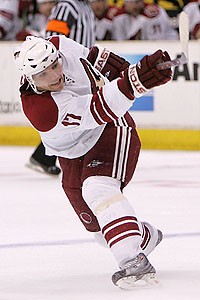 '10/'11 Stats Line:  79 GP - 19 G - 29 A - 20 PIM.  Made $3,000,000 last season.
Vrbata's a right-handed shot. He's 30. He's got 43 goals and 91 points over his previous two seasons. He's used to playing on the top power play unit, where he scored 10 of his goals last season. And while the rest of his team collapsed in the playoffs the past two seasons, Vrbata actually showed up. Yes, please. I'll happily give Vrbata a 3-yr, $3.2M/yr deal that makes Chris Kunitz and James Neal look over their shoulders on Crosby's wing.
'10/'11 Stats Line:  79 GP - 18 G - 23 A - 26 PIM.  Made $4,000,000 last season.
Michael Ryder is a what-you-see-is-what-you-get player. He's got good hands, doesn't make a lot of mistakes defensively, and is a proven playoff performer (and now a Cup winner). He was willing to play in a physical, up-tempo system in Boston, and he'd fit right in with Bylsma's style. Oh, and he's another right-handed RW that could effectively play the left wall on the man advantage, much like he did with the Bruins. Might be a bit more difficult to sign for $3.6M over two years after the Cup win, but I'd take a shot at it. [Edit: Now with Dupuis signing for $1.5M/yr, Ryder could be signed in the $4M/yr range]
Jaromir Jagr

'10/'11 Stats Line:  49 GP - 19 G - 32 A - 48 PIM (KHL - Omsk).  Made $7,000,000 last season.
That's right, Jagr's my third option at RW. There are a few reasons for this: (1) He hasn't played more than 55 games in a season for the past three years and he's 39 years old.; (2) his game doesn't really suit the Bylsma system; (3) he's still left-handed and fills a power play role that Evgeni Malkin already handles, and (4) Jagr is Jagr--which means he's bound to complain at some point in the season about something. Jagr himself admitted that Detroit's "euro" system suits his play better. All that being said, Jagr's worth a shot in the $2-3M range for one year if we don't land another scoring RW, if only to allow Pens fans to dust off their old #68's and retire the man as a Penguin with his name in the CEC rafters.
[Edit: Since Kennedy is likely not coming back, let's list another guy who may fill in a RW role on one of the top three lines]

'10/'11 Stats Line:  73 GP - 16 G - 19 A - 38 PIM.  Made $2,333,333 last season.
Here's another right-handed RW who can play all kinds of roles. He logged both 2:47/gm in PP TOI and 1:15/gm in SH TOI last season. He's averaged 17 goals per season over the past three, which were all on a defense-first (and last) Minnesota squad. Putting this guy with Crosby, Malkin and/or Staal could get him over the 20-goal hump in no time. If he's available for less than $3M/season, he's a solid option.
OTHER UFA OPTIONS
There are a few guys out there on the UFA market who might fill the 3rd/4th line winger roles if Rupp, Talbot and Asham aren't brought back (or demand too much money). 
If we're looking for toughness and a guy who isn't a terrible defensive liability, Cam Janssen comes to mind.  He's not a top-tier heavyweight in the caliber of Eric Godard, but he did throw down 17 times last season and he's willing to get nasty when someone's taking runs at your star player.  Janssen would price out at about $600k and could fill the role I see for Asham.
Raffi Torres is out there again, and the thought of Torres and Cooke on the same squad sounds like chaos in the making.  I doubt he's only offered $1M to stay in Vancouver, but it's worth checking into.
Sean Bergenheim showed his clutch ability in the playoffs, and I'd love to see the guy in a Pens uniform.  He made $700k last season, and I think he's worth $1M for each of the next two seasons if Talbot's headed elsewhere.  Speaking of other Bolts, how about bringing Adam Hall back for $600k?
Vernon Fiddler's one of the better penalty killers available, and for $800k, we might be able to replace Dupuis' minutes on the PK unit with a guy who makes a living of it.
While I'm at it, let's not forget Joe Vitale.  He's probably better served getting another year of heavy minutes in WBS, but he looked pretty good on that fourth line while in Pittsburgh.
So what do you think, Ray?