Like nearly everyone else in the Penguins fanbase, I wanted to see Jaromir Jagr back in a Pittsburgh sweater for what should be the last year of his career.  I remember the ridiculous goals and post-scoring salutes fondly, and despite his unceremonious departure in 2001 (netting all of 33 points from Kris Beech and Michael Sivek), I would've welcomed him back with open arms and a jar full of peanut butter.

Even after 11 years on the shelf, it would probably taste pretty good.
But this is where it ends.  And honestly, whatever food product carries Steve Sullivan's name (maybe Gary Roberts makes a nutrition shake for him), it'll taste better than Jagr's Sour Grapes at less than half the cost.  Here's why:
Let's do a simple comparison here on what I think are the most important factors to judge between the two players:
1. Skill Level
There's no doubt in my mind that Jagr's a more highly-skilled winger than Steve Sullivan.  Always has been, always will be.  Even at 39 years old, Jagr's probably going to score about 60 points in a top-6 role over an 82-game season.  Steve Sullivan, 36, will probably come in somewhere just below the 51 points he scored in '09/'10, the last  time he played a full 82-game season, and that's with either Crosby or Malkin as his pivot.  Sullivan's not a bad top-6 winger by any metric, just not the guy you want as a #1 trigger man.
Advantage - Jagr
2. Defensive Ability

I don't have to look up statistics to justify my assertion that Jaromir Jagr is one of the worst back-checking wingers of all time.  If I had a nickel for every time he was floating back into neutral ice while the play was already on the defensive side of the blueline, I'd have bought Facebook from Zuckerberg by now.  Sullivan, on the other hand, is pretty solid defensively.  He's received a few votes here-and-there for the Selke trophy, and while he's no Pavel Datsyuk, he certainly shows up in his own end.  He's also killed penalties for the better part of his career, though he wasn't called on for that in the playoffs last year.
Advantage - Sullivan
3. Fragility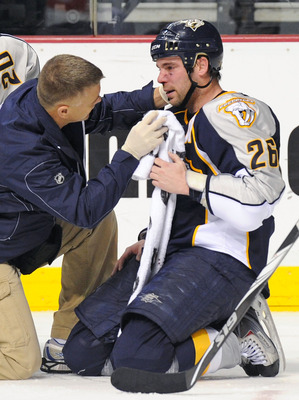 One of the knocks on Sullivan I've heard repeatedly since his signing is that he's fragile.  Really?  Yes, he missed two years and all of '07/'08 to a back injury and had a knee injury at the end of the playoffs last year after recurring groin issues that forced him to miss a few games.  But two seasons ago, he played a full 82 games plus six in the playoffs.  The Penguins had a good crash-course in fragility last season, and it's obviously not something we'd like to see repeated.
The flip side is Jagr.  He's 39.  Depending on your assessment of the nature of the KHL, he may not have played "full-contact" hockey in three years.  Alex Ovechkin's open-ice bomb during the Olympics last year made Jagr look like a guy who didn't remember that extended dangling in the neutral zone can lead to concussions, even when Scott Stevens is no longer playing. Jagr's still a beast, but at this age, could he deal with 82 regular season games plus a full playoff schedule?  How long does he take punishment in the corners before seeing time in the press box?
Advantage - Jagr (slightly)
4. Situational Fitness
Here's a huge difference between the two.  Sullivan's game is fairly north-south, speed-oriented, and he's a right-handed shot who plays the left side of the man advantage.  Jagr loves to play east-west, wheeling-and-dealing in both the offensive and neutral zones, using his lefty shot along the right boards on the power play.  There's no doubt that Jagr was correct when he identified the difficulty the Pens would have fitting him on a power play unit that already had two lefties - Crosby and Malkin - who are best used on the right side.  Sullivan's one-timer from the right circle is exactly what the doctor ordered for a terrible power play unit.  He may not be Steven Stamkos, but who is?
Advantage - Sullivan
5. Opportunity Cost
The $1.8M difference between the two contracts is significant for a team like the Pens who are right up against the salary cap.  Here's where we stand right now with the Pens roster:
FORWARDS
Chris Kunitz ($3.725m) / Sidney Crosby ($8.700m) / Pascal Dupuis ($1.500m)
James Neal ($2.875m) / Evgeni Malkin ($8.700m) / Steve Sullivan ($1.500m)
Matt Cooke ($1.800m) / Jordan Staal ($4.000m) / Tyler Kennedy ($2.000m)
Arron Asham ($0.775m) / Mark Letestu ($0.625m) / Craig Adams ($0.675m)

DEFENSEMEN
Paul Martin ($5.000m) / Zbynek Michalek ($4.000m)
Brooks Orpik ($3.750m) / Kristopher Letang ($3.500m)
Matt Niskanen ($1.500m) / Deryk Engelland ($0.566m)
Ben Lovejoy ($0.525m)

GOALTENDERS
Marc-Andre Fleury ($5.000m) / Brent Johnson ($0.600m)

CAPGEEK.COM TOTALS (follow @capgeek on Twitter)
(these totals are compiled without the bonus cushion)
SALARY CAP: $64,300,000; CAP PAYROLL: $61,316,667; BONUSES: $0
CAP SPACE (21-man roster): $2,983,333
That extra $1.8M allows the Pens to fill their final two roster spots (both forwards) with any of the following:  (1) Eric Tangradi @ $845k; (2) Dustin Jeffrey @ ~$600k (RFA TBD); (3) Nick Johnson @ $550k; (4) Joe Vitale @ $512k; or (5) free agents.  Another interesting option would be using Derek Engelland as a "swing winger" for toughness, and adding recently-signed Boris Valabik as the 7th defenseman on the roster.
Here's another scenario--the Pens could, as indicated by the Valabik signing, be in the trade market for another winger. Valabik, at $550k, is a nearly $1M savings over Matt Niskanen.  Add to this the fact that the Pens' organization is stacked with young, nearly NHL-ready defensemen (Strait, Bortuzzo, Despres), and Niskanen's value beyond this year is minimal.  I could easily see Ray Shero trading Niskanen (who is an RFA next summer) to a team willing to trade a winger in the $2.5M range for a puck-moving defenseman.
All of these scenarios, however, would be nearly impossible if the Pens had signed Jagr at $3.3M and remained only $1.2M under the salary cap with two spots to fill.
Advantage - Sullivan
FINAL TALLY
When your brain's left side adds it all up, Steve Sullivan's a better signing than Jaromir Jagr.  That doesn't take away the sting your brain's right side still feels from watching a former on-ice hero don the orange and black of those pieces of sh*t on the other end of the Turnpike.  Believe me, it sucks.  But it won't suck nearly as much when Jagr's packing his backs for Kladno in April while the Pens are still gunning for a Cup in the playoffs, thanks to a power play that now fires at above a pitiful 15.8%.