We are just 3 games into the Pittsburgh Penguins 2013-14 season, but we are already starting to notice a change in the way the lines are utilized. I wasn't planning to breach the topic this early in the season, but a recent article by The Hockey Writers caught my attention.
The article is discussing Olli Maatta and points out that on nearly every shift him and Robert Bortuzzo were on the ice, they were matched up with the 3rd line of Dustin Jeffrey, Brandon Sutter, and Chuck Kobasew. He discusses how Maatta is matched up with the "defensive" 3rd line, and as such is not being sheltered like a normal rookie but is instead allowed to square off against the opponents top forwards.
However, in watching the recent Pens games I was looking at the 3rd line, the minutes and zone starts they were getting and the opponents they were matched up against, and thinking they aren't seeing the same level of competition as they used to. When I learned that they were quite frequently paired up with the 3rd D pair it just made me further question their continued use as a defensive Check line. So which of us is right?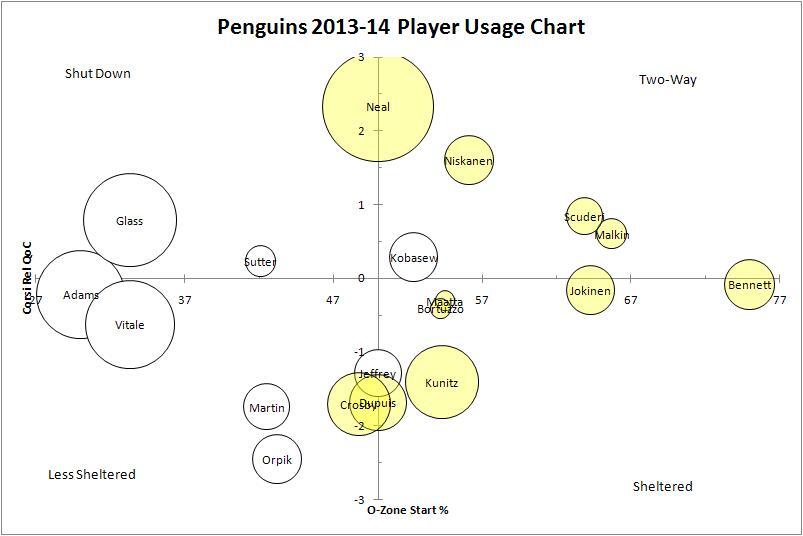 As we can see if the early season bubble chart, Sutter is still filling his usual Shut Down role, while Kobasew is solidly in Two-Way territory, Jeffrey is still more or less sheltered, and Maatta and Bortuzzo are quite evidently sheltered. So they aren't fulfilling the same defensive role they did last season.
The Shut Down defensive pair of Paul Martin and Brooks Orpik still sees a significant percentage of zone starts in their own end, but up front it oddly enough appears to be the 4th line of Tanner Glass, Joe Vitale, and Craig Adams who are taking on the primarily defensive shutdown role this season, our new Check line.
The bubble chart is based on Relative Corsi, which this early in the season means some of the values could be quite skewed. For example, the 1st line of Chris Kunitz, Sidney Crosby, and Pascal Dupuis has been dominating their opponents in possession and as such their QoC values are lower than they would be after the data has a chance to normalize.
And interestingly, the 2nd D pair of Rob Scuderi and Matt Niskanen, despite being player we associate with solid defensive play, have been used most often in the offensive zone, and we also see the 2nd line of Jussi Jokinen, Evgeni Malkin, and Beau Bennett seeing primarily offensive zone starts. So we have a few players looking sheltered that perhaps don't belong there. So is there another way to look at it and see how the players are bing utilized?
Enter the 5-on-5 Close data. The Pens didn't play for very long with the score Close, as they took 2 goal leads in the 1st period in both the 1st and 2nd game, but did manage to play a nice chunk of the 3rd game with a Close score. The theory behind using the Close data being that the team will be at their most balanced offensively and defensively, so we can see how players are used in that situation as indicative of their usual roles, whereas when trailing they would use more emphasis on their offensive players and when leading would employ more of their defensive players.
So at 5-on-5 Close we see an extreme shift in the way the 3rd D pair was used. Maatta and Bortuzzo saw a mere 8.3% of their starts in the Defensive Zone, taking 66.7% of them sheltered in the Offensive Zone. But the 3rd line, including Jokinen who occasionally takes shifts with Sutter, and the Shut Down D pair of Orpik and Martin do still see a decent number of starts in their own end.
But looking at the HARO QoC, one of the values that tells us who is facing the opponents' top offensive threats, we see Malkin's line and the 4th line facing tougher opponents. That is something I noted in the 1st game, where it seemed like nearly every time Jaromir Jagr stepped on the ice, Glass hopped on the shadow him. But its an extremely small sample size, so perhaps we should look elsewhere.
Enter the 5-on-5 Leading data. The Pens didn't have a single point in which they were trailing, and very little time with the score tied, so most of their games were played with them trying to defend their lead. And nearly 3 times as much of that was whilst defending a 2+ goal lead. So if we look at that data we should be able to see who is used most often when the Pens are in a shutdown mode and need to call upon reliable defense.
Once again we see that at the top of our chart we have our new shutdown 4th line taking the majority of their starts in the D-Zone, as do our usual shutdown D pair of Orpik and Martin. Maatta and Bortuzzo are roughly even in all 3 zones, although they see slightly more offensive zone starts still. The 3rd line, however, sees more neutral zone starts than anything else. And their other usage is completely different, with Sutter seeing far more time taking defensive zone draws while Jeffrey and Kobasew spend more time in O-Zone starts. Of course this could be explained by the fact that Sutter tends to get double shifted with the new Check line on the 4th line.
And HARO QoC is the same. When trying to protect their lead the Pens roll out the 4th liners and the shutdown D of Orpik and Martin against the toughest scoring opponents, with Crosby's line not far behind. Maatta and Bortuzzo, and the 3rd line, are not being used as the Shut Down line they were last year.