The Pittsburgh Penguins are sending 7 players to the 2014 Winter Olympics representing 4 countries. There has been a lot of talk in recent weeks with regards to the decisions, and a lot of people are unhappy that one player or another failed to make the lineup while an "inferior" player from the Pens managed to sneak by. So I wanted to take a look at what some of the advanced stats can tell us to determine whether or not our players truly belong amongst the world's elite. We will be looking at both Goals vs Threshold and Point Shares.
Team Russia
Let's start by looking at the country that is being represented by just a single Penguins player. Evgeni Malkin is heading back to the motherland to compete in Sochi, Russia in hopes of winning the Gold medal for the host team. Russia opted to take along 15 NHL players and 10 KHL players. Unfortunately we don't have any advanced stats available for those playing in Russia, so we are left with just a snapshot of the 7 NHL forwards that were selected to represent their country.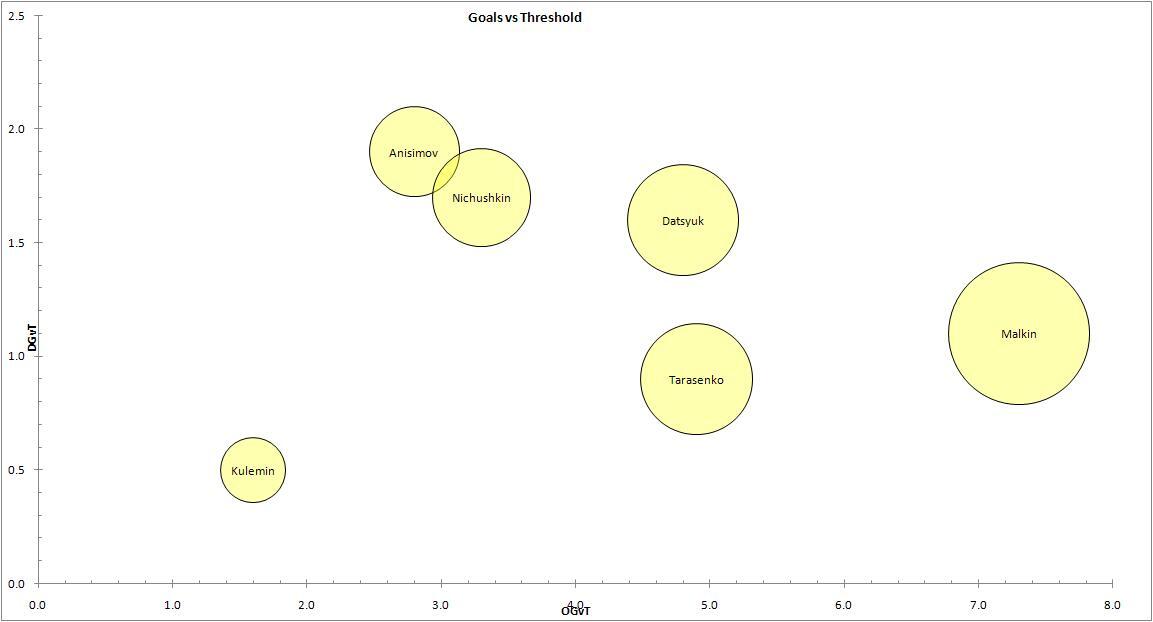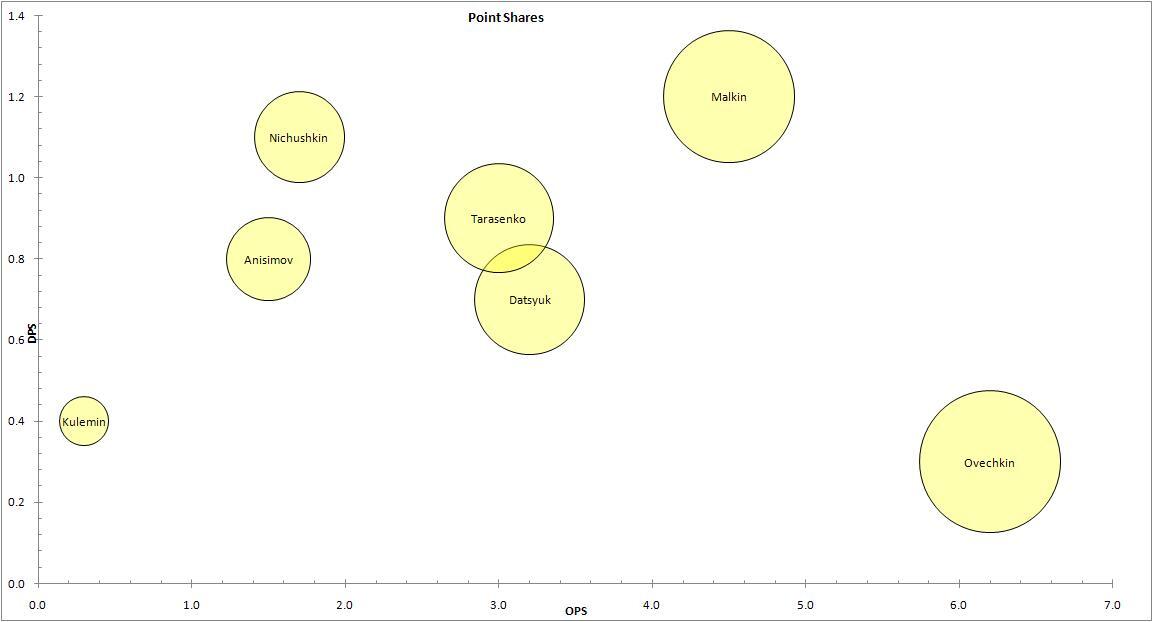 On the first chart for Goals vs Threshold there is one significant omission, as Ovechkin leads the way with the highest OGvT on the list, but falls off the chart due to his negative DGvT.
Our own Evgeni Malkin comes in as the #2 offensive threat on the team for both OGvT and OPS, just behind the man they plan to play on his wing at the Olympics. What is surprising is that Malkin is #1 in DPS but just #4 behind Datsyuk, Anisimov, and Nichushkin in DGvT. However, given what we have read about their plan to play him alongside Ovechkin as the top scoring line he isn't going to be looked up for his defensive play. Given Ovechkin's questionable defensive play, it should come as no surprise to see that Malkin then winds up taking the lead as the best overall GvT and PS on the team.
Team Finland
Finland has a proud hockey history, but also unfortunately a track record of upsetting losses. This year they come into the Olympics with a tough road ahead of them and a number of key players unavailable due to injury. The Penguins are sending two representatives of Team Finland, veteran forward Jussi Jokinen and 19-year old rookie defenseman Olli Maatta. Overall 16 NHL players were selected while the remaining 9 are currently playing in either the KHL or the Finnish SM-liiga. Since the Penguins are sending both we will be looking at the 4 NHL D as well as the 9 NHL forwards selected to represent Finland at the Olympics.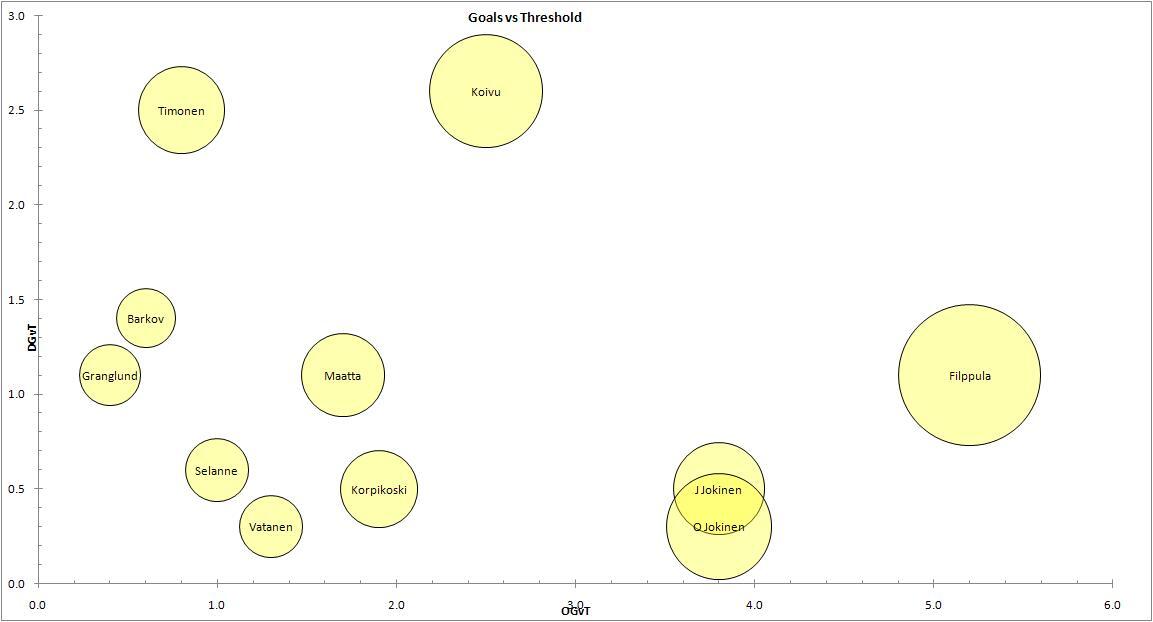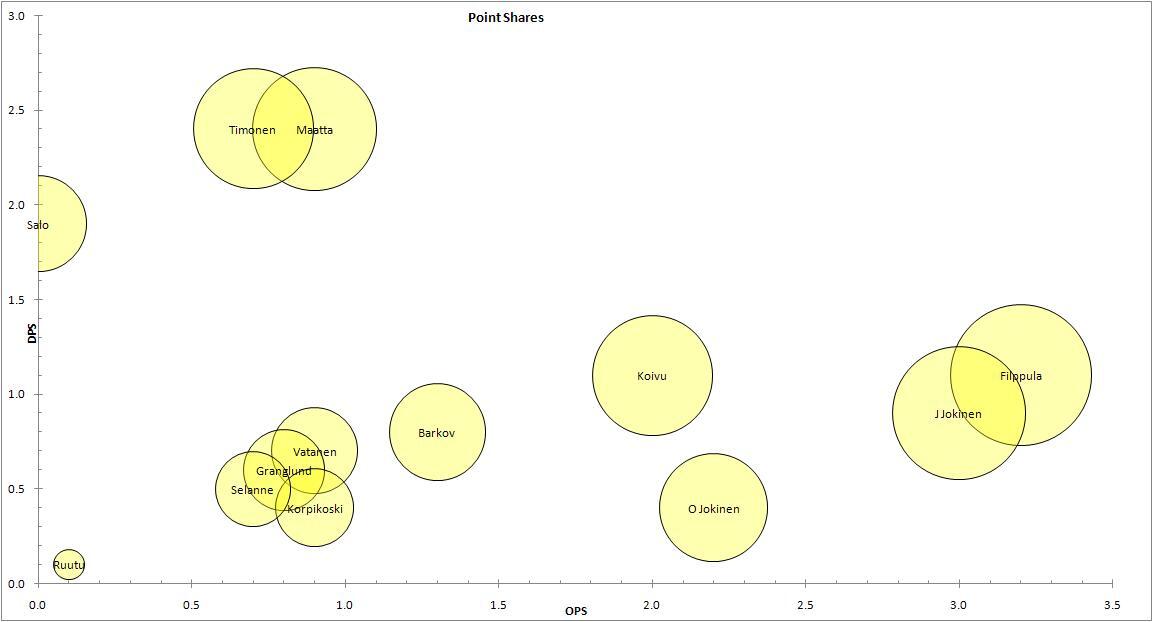 On the first chart for Goals vs Threshold there are two omissions. Salo falls off the left edge of the chart due to having a negative OGvT while Ruutu falls completely into obscurity thanks to being negative in both OGvT and DGvT.
Amongst the 4 NHL D our own Olli Maatta comes in at #1 in OGvT, just barely edging out Vatanen, who bests him as Maatta falls in at #2 in OPS. Defensively Maatta falls in at a distant #3 in DGvT behind his idol Timonen and Salo, but in DPS he is close behind as #2 behind Timonen. And then when it comes down to overall GvT he is just behind Timonen at #2 whereas overall PS has Maatta at #1. If they weren't both left-handed D that tend to play on the left hand side of the ice I would say that would be an interesting option for a D pair, since Timonen is who Maatta wants to be when he grows up.
Up front out own Jussi Jokinen is #2 in both OGvT and OPS behind Filppula. However, when it comes to DGvT he leaves a lot to be desired and Jokinen falls in at #7 behind Selanne, whereas DPS instead has him at #3 behind Filppula. When we put it all together his overall GvT is #5 behind Korpikoski whereas overall PS actually has him at #2 behind Filppula. It seems safe to assume he will be one of their Top 6 scorers, although who they partner him up with remains to be seen. It could be offensively dynamic Filppula or perhaps even the unrelated other Jokinen. And will he play center or shift to the wing as he has here in Pittsburgh?
Team USA
The largest contingent of Penguins are representing Team USA. First off their is Ray Shero who is working as an assistant GM, then there is Head Coach Dan Bylsma, as well as one of his Assistant Coaches Tony Granato. Even the other Assistant Coaches have ties here, as Todd Richards was the Head Coach of the AHL Wilkes-Barre/Scranton Penguins with Bylsma serving under him from 2006-08, and Peter Laviolette was a former Head Coach of the Wheeling Nailers back in 1997-98. They are even taking the Penguins Video Coordinator Andy Saucier. And of course the shutdown D pair of Brooks Orpik and Paul Martin.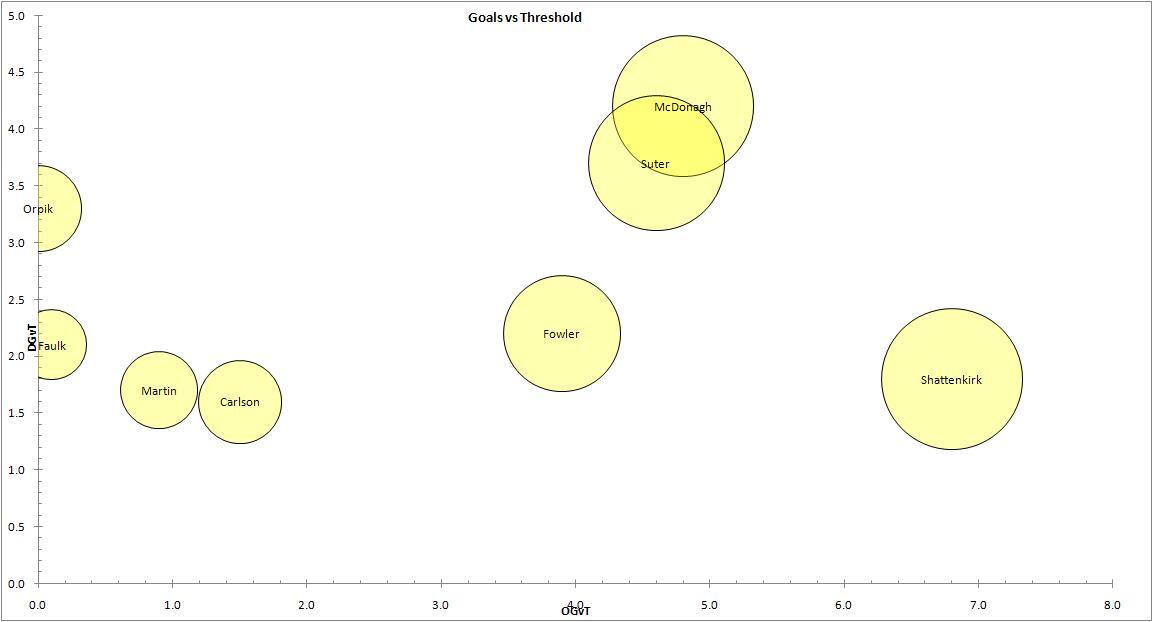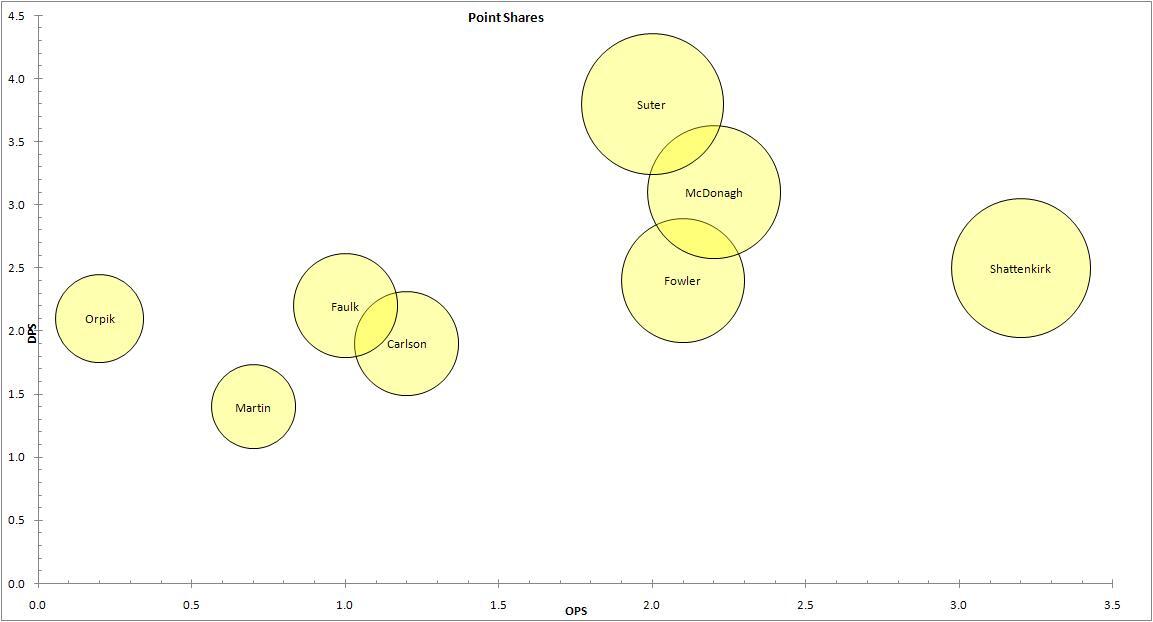 On thing to point out when looking at the chart is that Martin, and to a lesser extent Orpik, have missed a significant amount of time due to injury, so the overall totals look lower than some of the other options do. But when we look at the numbers on a per game basis we get a better idea of their true place in the lineup.
Offensively neither one of our defenseman are particularly compelling and in both the OGvT and OPS we have Martin falling in at #5 while Orpik comes in dead last at #8. Fortunately for us though they were not invited to the team due to their ability to score, but rather are expected to be used as the shutdown pair. For DGvT Orpik is the #2 option on the team while Martin falls in at #4. However, when it comes to DPS Martin increases to #3 while Orpik falls down to #5. If we then throw it all together we can see that overall GvT has Martin at #5 and Orpik at #6 while overall PS is less kind to them and while Martin remains the #5 D Orpik falls all the way down to #8. With the chemistry they already have established and two Penguins coaches helping to run the show it seems likely that they will both be in the lineup, paired together as the shutdown D pair, and some of the stats do at least support this is a decent option.
Team Canada
There were a number of unexpected decisions on Canada's lineup, a few players that controversially made the cut while others that seemed like shoe-ins were left off. The decisions close to home were perhaps not too surprising for those that are as familiar with the Penguins as we are here in Pittsburgh. Sure it was disappointing to see James Neal, Marc-Andre Fleury, and Kris Letang amongst Team Canada's snubs, but considering their risky play and/or injury issues it wasn't entirely unexpected to see them get passed over. The two players that did make the team, however, were easy decisions, Sidney Crosby and Chris Kunitz.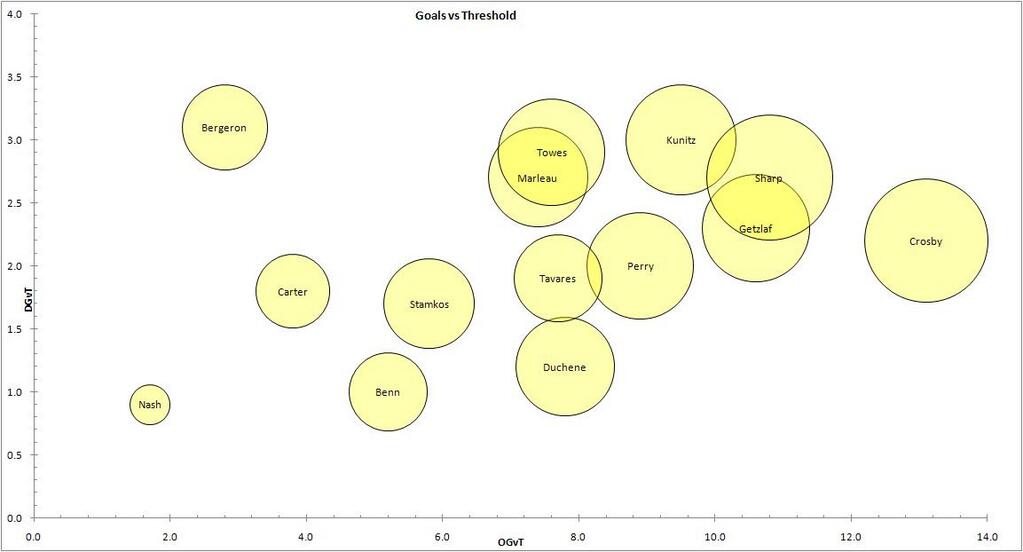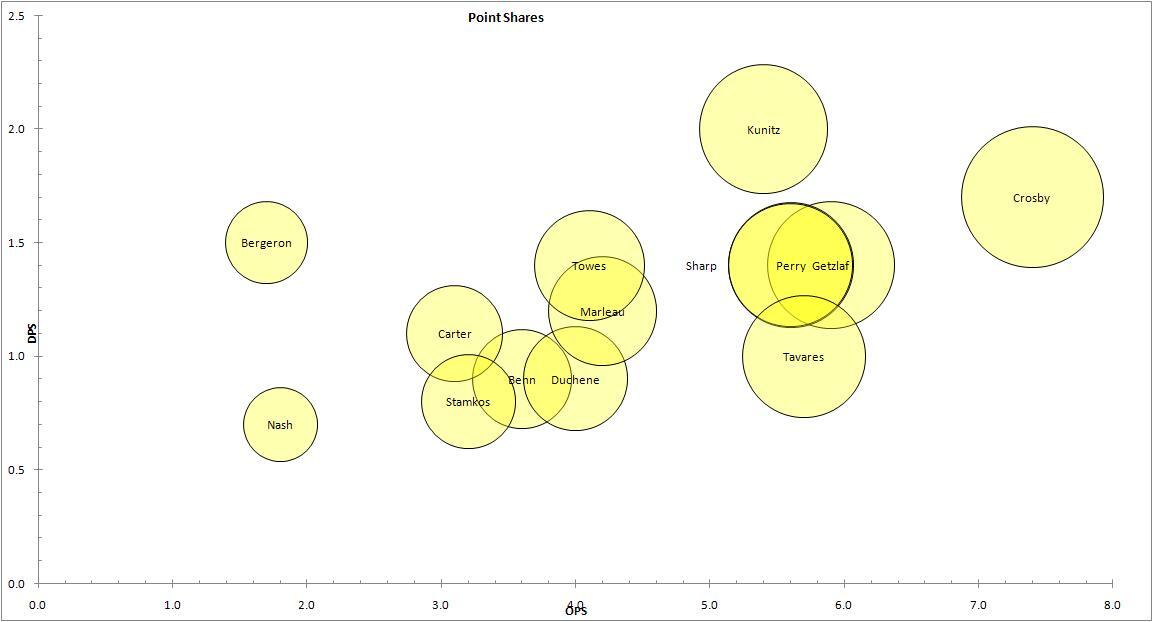 There is another slight anomaly on the charts here, as one of the most offensively dynamic players in the league has missed a large portion of the season and as such looks lower than he really should be, but we can look at the per Game stats when discussing who falls where. And on the 2nd chart for Point Shares overlap exactly one right on top of the other.
When it comes to OGvT we see our Penguins players are amongst the best of the best, Crosby is #2 behind the injured star winger Stamkos while Kunitz falls in at #5 behind Sharp. For OPS we still have Crosby at #2 behind Stamkos but Kunitz actually falls to #7 behind his former Anaheim linemate Perry. Defensively we see Kunitz step up as #3 in DGvT behind Bergeron while Crosby is just #9 behind Carter, while DPS shows Kunitz and Crosby as #2 and #3 behind Stamkos. For overall GvT Crosby actually falls to #3 behind Sharp while Kunitz is #5 behind Geztlaf, however on overall PS Crosby is #2 behind Stamkos with Kunitz falling in at #4 behind Getzlaf. It is a foregone conclusion that Crosby will be centering the top scoring line, and despite some complaints from opposing fans it is quite evident that not only does Kunitz indeed belong on the team but he is in fact amongst the 6 best players on the team. He may very well end up skating alongside Crosby and perhaps Stamkos on the top scoring line, as the coaching staff suggested they want to capitalize on their existing chemistry. However, even they don't use him there Kunitz would also be an excellent fit with his former Anaheim linemates Getzlaf and Perry, who also happen to be amongst the best players on the team. If other teams' fans want to complain that their favorite superstar didn't make the cut, perhaps they should take a look at the bottom left corner to find a player that looks completely out of place rather than bemoaning an excellent all-around player like Kunitz who earned his spot in the lineup based on his own merits.