The NHL is still off for a while due to the Olympic break, but we can take a look at how the Pittsburgh Penguins were performing so far this season in order to get an idea of what to expect for the rest of the year. In order to compare the players to the performance of their teammates we can look at some different Relative stats, that is to say their performance on the ice minus the team performance when the player is not on the ice.
You can calculate a relative value of anything that you can find separated by on-ice and off-ice numbers for. For example you could have a rudimentary comparison of goaltenders by looking at GAA and Sv% of one goaltender minus the other. However, that is a small sample size, having only two points of comparison, so what we want to do is look at skaters.
In order to make sure we are working with an even playing field we are going to be using the numbers from 5-on-5 Close Zone Start Adjusted situations. The 5-on-5 Close situations are times that both teams have 5 skaters on the ice and the score is either within 1 during the 1st and 2nd periods or tied during the 3rd. That is when we will see how the players are really used, rather than the different play style collapsing into a defensive shell and allowing more sheltered players to get more minutes like we do when defending a huge lead or double shifting the scorers and taking chances when trying to come back from behind. The Zone Start Adjusted numbers take out the 1st 10 seconds after every faceoff in order to neutralize the advantages of getting more sheltered O-Zone starts or harder D-Zone minutes.
The stats we will be looking at then are Goals For, Goals Against, and Plus/Minus Relative; Fenwick For, Fenwick Against, and Fenwick Relative; and Corsi For, Corsi Against, and Corsi Relative. For those of you that do not remember, Fenwick and Corsi are shot differentials, with Fenwick being Shots on Goals and Missed Shots while Corsi also looks at Blocked Shots.
In our bubble charts the X-axis is our defensive aspect, with players further to the left being better at preventing goals/shots and those further right being scored on more often or facing more shots than the team does when they are not on the ice. The Y-axis is our offensive aspect, with players further up scoring more goals and taking more shots than the team does when they are not on the ice, while those that are further down are less effective at generating scoring/shots. So our best two-way players then would be in the top left quadrant, while the top right quadrant are players that are much better offensively than defensively and the bottom left are those that are solid defensively but not that great at generating offense. Then the bottom right are those that struggle to accomplish much either way. In that regard it is quite similar to the bubble charts that compare Zone Starts and QoC. The size of the bubbles are based on the relative differential, with yellow bubble being positive and white bubbles being negative.
Goals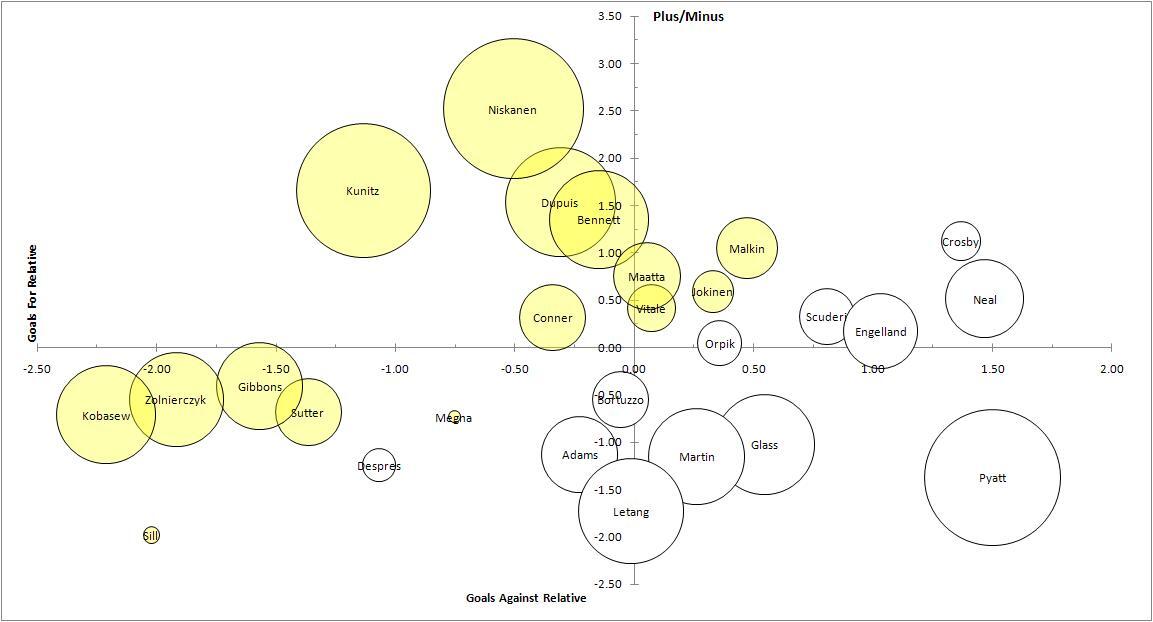 Fenwick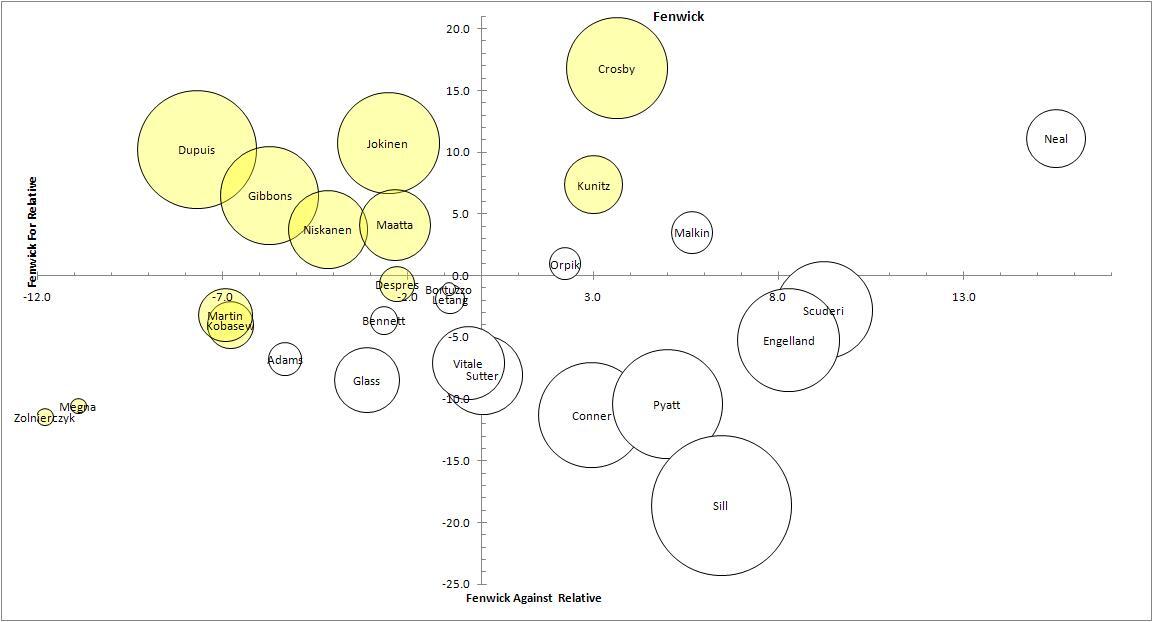 Corsi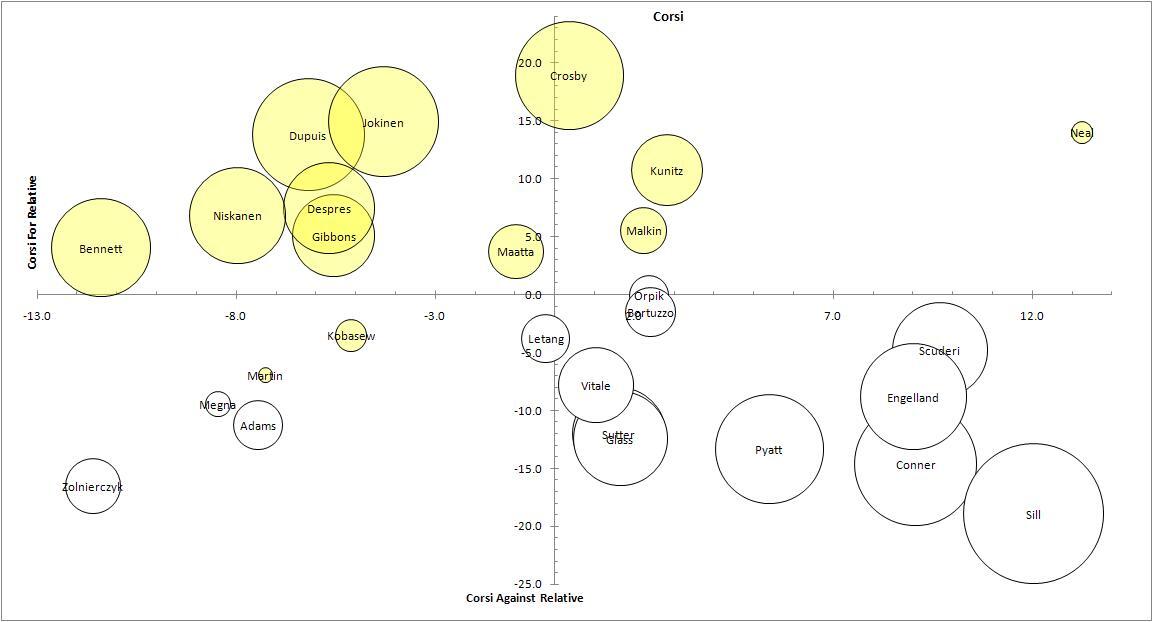 Notes
One thing to keep in mind when looking at these charts is the effect of sample size.
On D we have 3 players with over 400 5-on-5 Close ZS minutes: Niskanen, Orpik, and Maatta; 2 more with over 300 minutes: Letang and Martin; 3 more with over 200 minutes: Engelland, Bortuzzo, and Scuderi; and lastly Despres at under 200. We can jump to the conclusion that 300+ minutes is more than enough to account for sample size discrepancies as it encompasses our Top 5 D, and even 200+ should be enough, although those players do look ever so slightly out of place and includes their 6th through 8th D. Despres though is such a small sample size that you should certainly take his numbers with a grain of salt.
We can also look at how often the players are used per game in 5-on-5 Close ZS situations to determine the general trend in the depth chart. In that case our most frequently used D are Orpik, Martin, Letang, Niskanen, Scuderi, Maatta, Despres, Bortuzzo, and Engelland. That gives us the 6 D we would expect to see when everybody is healthy, although not necessarily in the combinations we should expect. It also makes one wonder if they will bring Despres back up to fill in while Letang is hurt.
Up front we have 2 players with over 400 5-on-5 Close ZS minutes: Crosby and Kunitz; 4 players with over 300 minutes: Jokinen, Malkin, Sutter, and Dupuis; 4 players with over 200 minutes: Adams, Neal, Glass, and Vitale; 5 players with over 100 minutes: Pyatt, Kobasew, Megna, Conner, and Gibbons; and lastly 3 with under 100 minutes: Sill, Zolnierczyk, and Bennett. Players with 300+ minutes are far more than enough of a sample size as it encompasses our entire Top 6, while 200+ appears to be a solid sample size as well since it includes the more permanent members of our Bottom 6. However, under 200 minutes we start to see some sample size issues, particularly for Pyatt whose numbers include his time before joining the Pens, but these are mostly our call-ups and fill-in options, while under 100 minutes are such a small sample size that you need to view those results a bit skeptically.
Up front our flow through the depth chart is Crosby, Dupuis, Malkin, Kunitz, Neal, Jokinen, Conner, Sutter, Zolnierczyk, Glass, Gibbons, Vitale, Kobasew, Megna, Bennett, Adams, Pyatt, and Sill. It is somewhat troubling to see how infrequently the most obvious options to fill in for the injured Dupuis have been used, although as far as 3rd line options are concerned we have numerous players that fall in close to Sutter's TOI.