Kudos to Pensburgh's own PensKorn66 for jumping on this one and relaying the info.  Just for future reference, if you guys caught something before I move on it, you can post it up as a "Diary" on the main page.  Do so by logging-in on the top right corner and clicking "Post New Diary."  It'll show up when you're done in the Diary feed and I'll be sure to link it and/or post it in my next post.
Although usernames are not necessary for commenting, they are for making diaries.  So feel free to sign-up now at to become a member of the Pensburgh community.
The Pens definitely used the All-Star break to the best of their advantage.  In efforts to fill the voids of injuries and illnesses, the Pens have made a few moves along the lines of ordinary (sending down recent call-ups) to not so ordinary (re-signing Kris Beech?!).  Needless to say, I've always had faith in the Pens' front office and will continue to do so until Eric Lindros comes out of retirement and plays on a line with Forsberg and Lemieux in Pitt.
In other words, I'll never lack faith.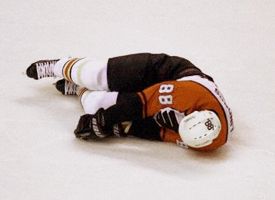 God I love that picture...
With that in mind, the Pens recently recalled Alain Nasreddine and Nathan Smith from the farm.  Nas has had his share of calls and recalls throughout his time so far with the Pens , as this is also his second stint with the Pens this season.  Back in November when Ryan Whitney was out with a groin pull, Nas came in off the bench to take on the role.  After only four games Coach Therrien sent him down to WBS for conditioning and hopefully it has carved out a better game.
Nathan Smith has yet to wear the black and gold in his career, so congrats to him on his new colors.  Smith is currently ranked second on the Wilkes-Barre/Scranton squad with 34 points (12-22).  His previous NHL experience was on an as-needed basis with Vancouver from 2003 till when the Pens acquired him this past summer.  In his four games with Vancouver Smith remained pointless.
So in case you've lost track with the recent signings, injuries and exchanges between the farm and daddy club let me just give a quick crash course of the new faces you can (can not) expect to see tomorrow against the Devils
Adam Hall - more than likely back in the lineup after resting up a groin injury for three games.
Chris Minard, Tim Brent Ryan Stone - reassigned back to WBS
Allain Nasreddine - Recalled from WBS for his second stint this season
Nathan Smith - Called-up from WBS for his first career move with the Pens
Kris Beech - picked up off waivers from Washington, who acquired him Tuesday from Vancouver, for his second go with the Pens.  Long story short - in the span of 5 days Beech was exchanged between three teams.
Also worth mentioning: Johnathan Bombulie from Penguins Insider has some reports that the Wilkes-Barre/Scranton Pens may have an outdoor game in the not-so-distant future.
During his state of the league address Monday, AHL president Dave Andrews said the league's board of governors was interested in discussing an AHL version of the Winter Classic. Penguins CEO Jeff Barrett said the Penguins are interested in hosting.


Johnathan Bombulie - Penguins Insider
Pens vs Devils tomorrow in NJ for the first game back since the All-Star break.