November 6/January 8
Well Pittsburgh's Cover Boy is back on another edition of The Hockey News.  This makes two issues in two months, the first coming on November 6.  In this issue, The Hockey News displays their ninth annual 100 People of Power and Influence.  
Before we get to the list of noted notables, a poll was displayed earlier in the issue asking "Who is the most influential/powerful individual in the NHL?"
Here is how the poll broke down.
Gary Bettman - 30%
Wayne Gretzky - 29%
Sidney Crosby - 17%
Brian Burke, Colin Campbell, Ed Snider, Bill Daly, Paul Kelly and Jeremy Jacobs combined for 26%.
A later article titled "The King of The Castle" is a small article on Sid and his influence not only on the Pens but also throughout the league.
Another article, in the same issue I might add, is titled...well, it doesn't actually have a title.  It's just part of this issue that seems to be dedicated entirely to Sid.
But finally, getting to the overall point of this post, the Top 100 Power and Influence Rankings according to THN.  Basically, this is a look at players in the present, future and past who have started or are continuing to make a huge impact on the league.  Who was number one you ask?
Do I really have to tell you?
Here is what THN had to say:
'P' stands for Prolific Penguin, Powerful Pitchman and Prime-time Producer.  Crosby, 20, is the face of the NHL.  He sells jerseys, fills stands and puts points on the board.  Name another player who was the subject of a tug of war between Canadian and U.S. television networks in the 2007 playoffs.  It's no coincidence the NHL is changing its schedule next season so Crosbymania will hit all 30 markets.
Other notables in the top 100 :
#2 Gary Bettman
#6 Wayne Gretzky
#16 Brendan Shanahan
#24 Don Cherry (I hate that SOB)
#32 Vinny Lecavalier
#44 Scotty Bowman - Former Cup Coach reppin it
#45 Eric Lindros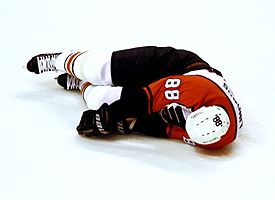 Sorry - just had to.
#51 Patrick Kane
#52 Marioooo Lemieuuuuux
#53 Mats Sundin
#61 Martin Brodeur
#69 Alexander Ovechkin
There's other people mentioned, obviously, to fill out the rest of the 100 but those are the ones I think are worth mentioning in this blog.  
What say you of the extensive Crosby Coverage from THN?  Is it too much, or are they in fact marketing "The Next One?"
What about Ovechkin?  Do you think he deserves to be higher?
Don't forget - open game thread for Saturday's game against the Panthers at 3pm.  If you haven't already done so, take two seconds out of your day to create an account and join in on the game time banter.