There was quite a lot of news yesterday as teams scrambled to make final roster cuts in order to be Cap compliant for the start of the 2014-15 NHL season. So I decided to delay my writeup about the ECHL expansion until after the dust settled. Although we are all anticipating further moves from the Pittsburgh Penguins as they are currently poised to take advantage of the LTIR exemption. So before the next story sweeps across the internet let's take a look at a huge story for the future of minor league hockey in North America.
ECHL Expansion
The ECHL Board of Governors announced that they have expanded their league to include 7 new expansion teams that had formerly played in the now defunct Central Hockey League. This brings the ECHL up to 28 teams, although it means they now need to rush and make last minute changes to the schedule and Division alignments.
Our own Wheeling Nailers have already begun their 2014 Training Camp and are set to play their exhibition games this weekend, Friday and Sunday at home vs their primary rival Cincinnati Cyclones. They are scheduled to begin the regular season at home on October 18 vs the Reading Royals, although the last minute addition of expansion teams may result in major overhauls of the regular season schedule.
CHL Folds
Over the summer there was discussion about merging the two AA leagues to help support their financial woes, but the leagues were unable to reach an agreement and talks fell through. No longer able to support itself, the Central Hockey League decided to cease operations for the 2014-15 season, and the ECHL decided to add 7 teams to their ranks in order to keep minor hockey alive in North America.
The final 7 teams in the CHL join the ECHL as expansion franchises. They are the Allen Americans, Brampton Beast, Missouri Mavericks, Quad City Mallards, Rapid City Rush, Tulsa Oilers, and Wichita Thunder.
According to twitter there will be minimal changes to the schedule, each expansion team will keep their previous schedule from the planned 2014-15 CHL season and add 6 games against ECHL opponents. However, the alignment of Conference/Divisions and changes to the playoff format will be announced at a later date.
28 Team AA Minor League
There has long been a push to get North American hockey in line with the NHL and AHL, so that we could have 30 teams per league with no shared affiliations. The expansion and absorption of the CHL brings the ECHL one step closer to this goal as they now have 28 teams, although there are still numerous shared affiliations and a handful of independent teams.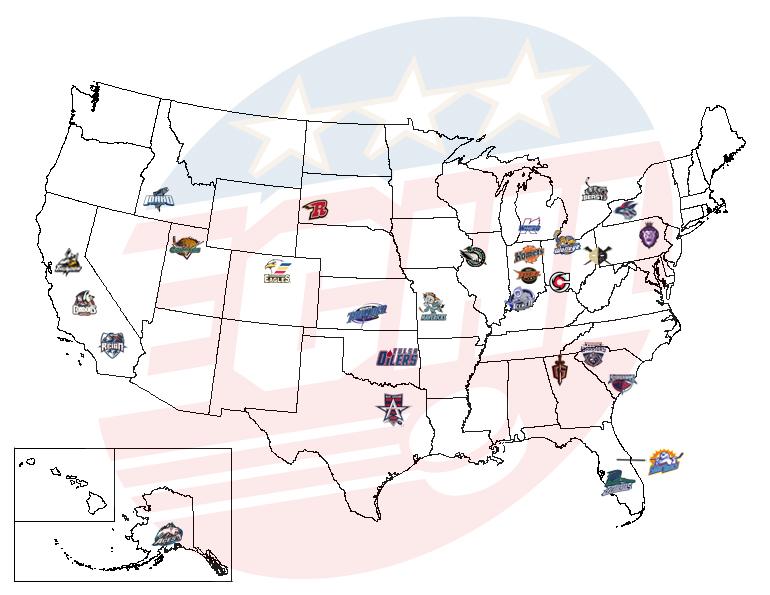 Source: Minor Life.
Alaska Aces (Minnesota Wild/Iowa Wild/St. Louis Blues)
Allen Americans (Dallas Stars/Texas Stars)
Bakersfield Condors (Edmonton Oilers/Oklahoma City Barons)
Brampton Beast (Tampa Bay Lightning/Syracuse Crunch)
Cincinnati Cyclones (Florida Panthers/San Antonio Rampage/Nashville Predators/Milwaukee Admirals)
Colorado Eagles (Calgary Flames/Adirondack Flames)
Elmira Jackals (Buffalo Sabres/Rochester Americans)
Evansville IceMen (Ottawa Senators/Binghamton Senators)
Florida Everblades (Carolina Hurricanes/Charlotte Checkers/Tampa Bay Lightning/Syracuse Crunch)
Fort Wayne Komets (Colorado Avalanche/Lake Erie Monsters)
Greenville Road Warriors (New York Rangers/Hartford Wolf Pack)
Gwinnett Gladiators (Arizona Coyotes/Portland Pirates)
Idaho Steelheads (Dallas Stars/Texas Stars)
Indy Fuel (Chicago Blackhawks/Rockford IceHogs)
Kalamazoo Wings (Columbus Blue Jackets/Springfield Falcons/Vancouver Canucks/Utica Comets/Chicago Wolves)
Missouri Mavericks (Chicago Wolves)
Ontario Reign (Los Angeles Kings/Manchester Monarchs/Winnipeg Jets/St. John's IceCaps)
Orlando Solar Bears (Toronto Maple Leafs/Toronto Marlies)
Quad City Mallards (Minnesota Wild/Iowa Wild)
Rapid City Rush (Independent)
Reading Royals (Philadelphia Flyers/Lehigh Valley Phantoms)
South Carolina Stingrays (Boston Bruins/Providence Bruins/Washington Capitals/Hershey Bears)
Stockton Thunder (New York Islanders/Bridgeport Sound Tigers)
Toledo Walleye (Detroit Red Wings/Grand Rapids Griffins)
Tulsa Oilers (Independent)
Utah Grizzlies (Anaheim Ducks/Norfolk Admirals)
Wheeling Nailers (Montreal Canadiens/Hamilton Bulldogs/Pittsburgh Penguins/Wilkes-Barre Scranton Penguins)
Wichita Thunder (Independent)
The Future
Some of these affiliations may have to change, as it leads to a couple teams having multiple affiliates. 28 NHL teams have ECHL affiliates, only the New Jersey Devils and San Jose Sharks do not.
However, as of right now Dallas (and their AHL affiliate in Texas) have affiliations with both Allen and Idaho, Minnesota (and their AHL affiliate in Iowa) have affiliations with both Alaska and Quad City, and Tampa Bay (and their AHL affiliate in Syracuse) have affiliations with both Brampton and Florida. In addition, St. Louis has an affiliation with Alaska, but their AHL affiliate Chicago has affiliations with both Kalamazoo and Missouri.
It seems likely that you can see another realignment coming next season, with multiple teams swapping affiliates, possibly both at the AHL and ECHL levels as teams work on getting their franchises more centrally located. In addition, the expansion has opened the door to a future in which we may no longer see teams having shared affiliations. This may work against some of the poorer privately owned teams though as it would require more money spent on ECHL contracts if they are receiving less help from above.
We can also assume that the league will likely be at 30 teams in the near future. The Las Vegas Wranglers suspended operations this past season while they try to find a new arena, so they may very well return as the 29th team. With the westward expansion provided by the new CHL teams this may actually open the door for Reno to join as the 30th team, as they have supposedly been trying to join the league since 2003. However, with the NHL working on trying to expand themselves to 32 teams we may need the AHL and ECHL to add additional teams in order to keep up in the future.