Last night was the 61st game of the 2013-14 NHL season for our Pittsburgh Penguins, so they are now 3/4 through. That means it is once again time to take a look at the team's performance through the most recent group of 20 games. You can check back and see how they did in the 1st Quarter and 2nd Quarter if you would like a refresher.
Through 61 games this year, 75% of the season up to this point, the Pens have gone 41-16-4 and currently sit at #1 in the East with 86 points. They are just 3 Points ahead of Boston for the Conference lead, but have a commanding 16 point lead over the other teams in their Division, with a game in hand to boot. Overall they currently sit at #3 in the NHL, just 2 points behind St. Louis as well as 5 points behind Anaheim who has a game in hand.
Even with the Pens recent struggles they are still a comfortable #4 in the NHL with both 195 Goals For and 150 Goals Against, as well at their +45 Goal Differential. The Pens also still hold the #1 Power Play unit at 24.9% and are #2 on the Penalty Kill with a 86.7 PK%. As a team they have barely broken even at the faceoff dot and are #12 in the league with a 50.9 FO%. And perhaps even more important is that they are still #1 in the league with 363 Man Games Lost.
Forwards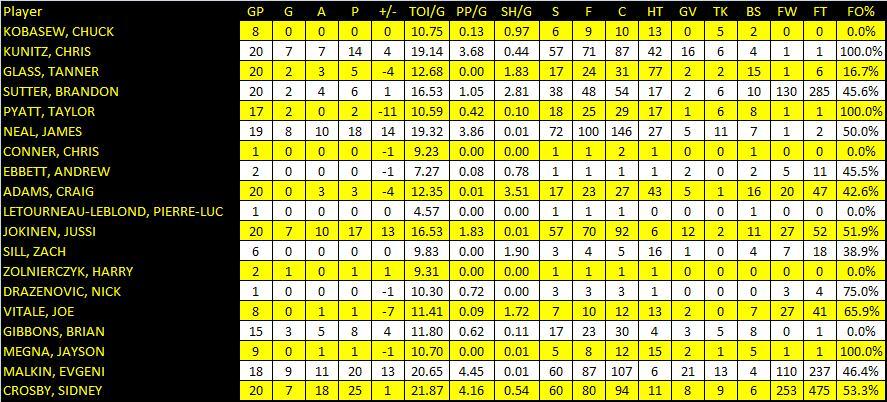 Defensemen
<a href="https://pbs.twimg.com/media/BiASc1ECMAAJpge.jpg:large" target="D"><img src="https://pbs.twimg.com/media/BiASc1ECMAAJpge.jpg:large">
GP - Games Playes
G - Goals
A - Assists
P - Points
+/- - Goal Differential
TOI/G - Time on Ice per Game
PP/G - Power Play Time on Ice per Game
SH/G - Penalty Kill Time on Ice per Game
S - Shots on Goal
F - Shots on Goal + Missed Shots
C - Shots on Goal + Missed Shots + Shots Blocked
HT - Hits
GV - Giveaways
TK - Takeaways
BS - Blocked Shots
FW - Faceoffs Won
FT - Faceoffs Taken
FO% - Faceoff Win Percent
Goaltenders

GP - Games Played
W - Wins
L - Losses
OT - Overtime Losses
SO - Shutouts
TOI - Time on Ice
GAA - Goals Against Average
GF - Goals For
GA - Goals Against
SF - Shots For
SA - Shots Against
Sh% - On-Ice Shooting Percent
Sv% - Save Percent
PDO - "Dumb Luck" stat
5-on-5 - Only situations in which both teams have 5 skaters on the ice (i.e. no PP/PK, EN, or 4-on-4)
Close - Only 5-on-5 situations in which the score is within 1 Goal in the 1st and 2nd period or tied in the 3rd period