#1: Why is Conor Sheary on Sidney Crosby's line? Well, could you imagine Chris Kunitz in 2016 hopping over the boards for a shift, skating up to the puck at this speed and taking a shot with this release, power and placement to the top corner?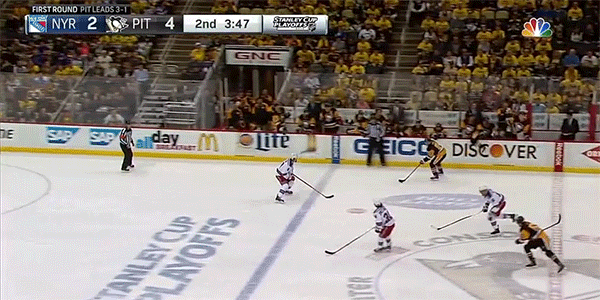 #2: Which, not to pile on Kunitz too much, but only 1 forward on the Pens didn't record a point in the Rangers series, guess who it was? That also makes 0 goals in his last 13 games for Kunitz. Dropping off the top power play unit hurts, but the Pens will need something out of their alternate captain in the next series. Perhaps luckily, a physical matchup against the Flyers/Caps seems to be better for him. Let's hope.
#3: One more note on Sheary, in 49 total NHL games (regular season + playoffs) this season he only has 4 assists (to go along with 9 goals). He's got great confidence, speed, dekes and puck-skills, but it will be interesting to see how his vision and playmaking develop especially now that he's on Crosby's line (deservedly) for the foreseeable future. There's nothing to complain about Sheary's game, but he's going to need to keep the play moving and be well-rounded to be a valued member of the top line.
#4: With 6 points (3g+3a) in the 5 games in the NYR series this year, Phil Kessel is up to 27 career NHL playoff points in 27 games. Almost ironic that a such non-physical player who avoids contact and doesn't forecheck much is such a playoff performer when the games get so intense and tight-checking. But that's a credit to Kessel's quiet tenacity and ability to make good things happen when he gets the puck. For all the preseason expectations that he should have had 35, 40, 50 goals this season, being so good in the playoffs meets the needs of the team.
#5: From what we've heard, unless plans change in a major way or something else crazy happens; the next time you see Beau Bennett playing a game, it won't be in a Penguins jersey and we'll just leave it at that.
#6: Almost lost with Sheary, Tom Kuhnhackl and Bryan Rust all playing so well in the NHL playoffs is the play of the youngsters in Wilkes-Barre boosting the AHL Pens. Daniel Sprong scored 2 goals (including the OT winner) in Game 2. Former 3rd rounder and new addition Jake Guentzel scored 2 goals (including the OT winner) in Game 3. The Pens future pipeline of young talent looks very promising right now.
#7: We don't know the exact Round 2 schedule, but Pittsburgh is probably looking at 4-6 days of rest. This will be excellent for banged-up players like Rust (who skipped practice on Friday the day before scoring 2 on Saturday), Evgeni Malkin and his elbow and Olli Maatta (who was arguably the Pens worst defenseman in the NYR series). And it will do a world of good for other veterans and big minutes-eaters like Crosby, Kunitz, Kessel, Patric Hornqvist, Kris Letang, Matt Cullen and Trevor Daley who often conserve energy and opt-out of the optional practices this time of year. All the rest and recovery time a team can get -- especially for these crucial players -- is of the utmost importance before the grind of the next playoff series.
#8: I was kind of obsessed with the first goal against the Rangers, because in 2014 and 2015 playoffs NYR was 7-1 against the Pens when the Blueshirts scored the first goal of the game. This time, in 2016, NYR ended up 0-2 when scoring first. A stat mentioned here before was that the Rangers were a solid 33-5-5 in the regular season when scoring first. Whether you want to point to their leaky defense and poor overall team play, the Penguins resiliency or a combination of both; Pittsburgh was able to overcome so much more this playoff than in the past thanks to their talent, depth, execution and aggressive coaching strategies.
#9: The Pens special teams were really special against New York. The power play went 8 for 21 (38.1%), tops in the league right now (thanks, Geno!). What has flown under the radar is that Pittsburgh's penalty kill was 15/17. A basic hockey-ism is to have a PP rate + PK rate add up to 100% or greater for a good chance of success. It's a small sample, but Pittsburgh clicked at a remarkable 127.6% in this metric in the first round. For a team that typically wins possession at even strength, if they can stay even close to that great on special teams the Pens will be a very, very difficult team to beat in a 7 game series.
#10: Granted, it's only 1/4 of the way to the finish and way early, but who would be the Pens front-runners for the Conn Smythe trophy as playoff MVP? Our list, in order, would be:
Sidney Crosby: 8 points in 5 games (3g+5a)

Matt Murray

: 3-0, 1.33 GAA, .955 save %, 1 shutout

Kris Letang: 5 points in 5 games (1g +4a). While shouldering (by far) a team-high 27:17 ice-time per game, the next highest player has 22:41 (Daley), and they're the only 2 defensemen playing 18:30+ TOI/game
Phil Kessel: 6 points in 5 games (3g+3a), leads team in shots on goal

Evgeni Malkin: 7 points in 4 games (2g+5a)
Matt Cullen: 3 points in 5 games (2g+1a), 2 game winning goals