We kick off Pensburgh recaps of a fun season by reviewing one of the most pleasant surprises of the year: Matt Cullen.
Age and Contract Status
Age: 39 (November 2, 1976). Unrestricted free agent. Completed a 1-year, $800K contract.
Preseason Expectations
In July 2015, Matt Cullen was a free agent and was leaning toward retirement, when his phone rang and he heard the voice of his old GM from Carolina, Jim Rutherford. The Pens were looking for a competent 4th line center and a veteran leader for the dressing room. Cullen jumped at the opportunity to take another whack at the second Stanley Cup with a perennial contender. Personally, I expected him to be notably better than pretty much any of the bottom-6 players the Pens had iced in the previous 3-4 seasons, but I didn't know how much was left in the tank.
Verdict
106 games later, I'm still pinching myself about the effectiveness, scoring and leadership that Matt Cullen provided for this team throughout the season. This just could be the best $800K any NHL team has ever spent on one season of a 35+ player. He was excellent at even strength, on the penalty kill, and in the faceoff circle. He also filled in for injured players ahead of him on the depth chart incredibly well.
In addition to 16 goals and 16 assists (13 and 11 of which came at even strength) in the regular season, Cullen added 4 huge goals in critical junctures of the postseason. Moreover, after suffering a broken toe blocking a James Garrison shot in game 2 of the Eastern Conference finals against Tampa, he kept on playing while receiving pain-killing injections before every game.
He was the heart of one of the best 4th lines in recent playoff memory. Mike Sullivan had absolutely no qualms about sending Matt Cullen, Tom Kuhnhackl and Eric Fehr out there against any competition, knowing they'd be outstanding defensively but also that there was some valuable offense to be had. With all of the good stories the Pens wrote this season, this particular player and that line were my favorite one.
Future
Cullen is a free agent and, what with the Cup and turning 40 in a few months, who would blame him if he decided that going out on top was the right thing to do? However, if after a few weeks of rest he decides to come back for another year, I'd be happy to cheer him on (and those kids are total hams). Jim Rutherford told him to take all the time he needs and think things through, so we'll see. If this is the end, this guy will never again pay for a drink in western PA. Spectacular season from the wily vet.
2015-16 Stats

Cullen's even-strength stats shown below are from Stats.HockeyAnalysis.com.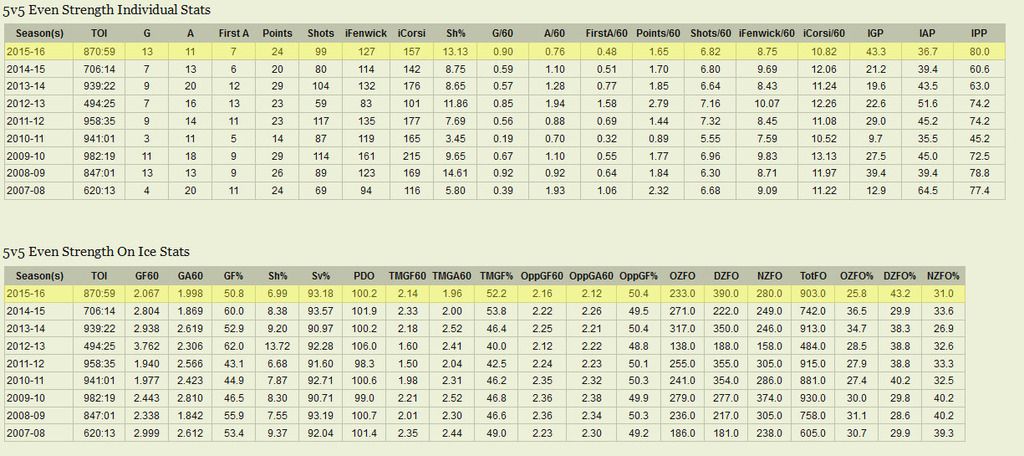 Cullen's HERO Chart
(From Own The Puck)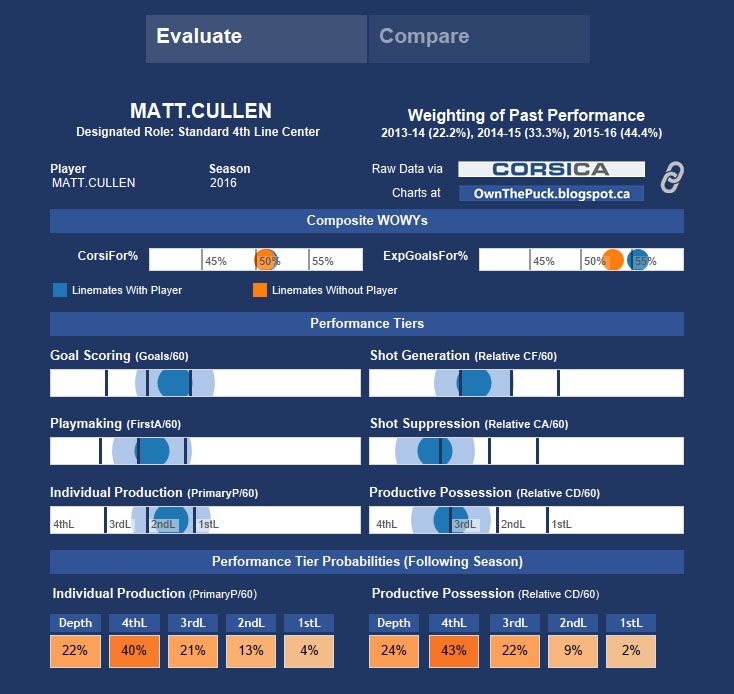 2015-16 Game-by-Game Analysis
(From HockeyViz, explained here)
Distribution of Teammates and Competition
(From HockeyViz, explained here)
Cullen's Last 9 Seasons
(From Stats.HockeyAnalysis.com)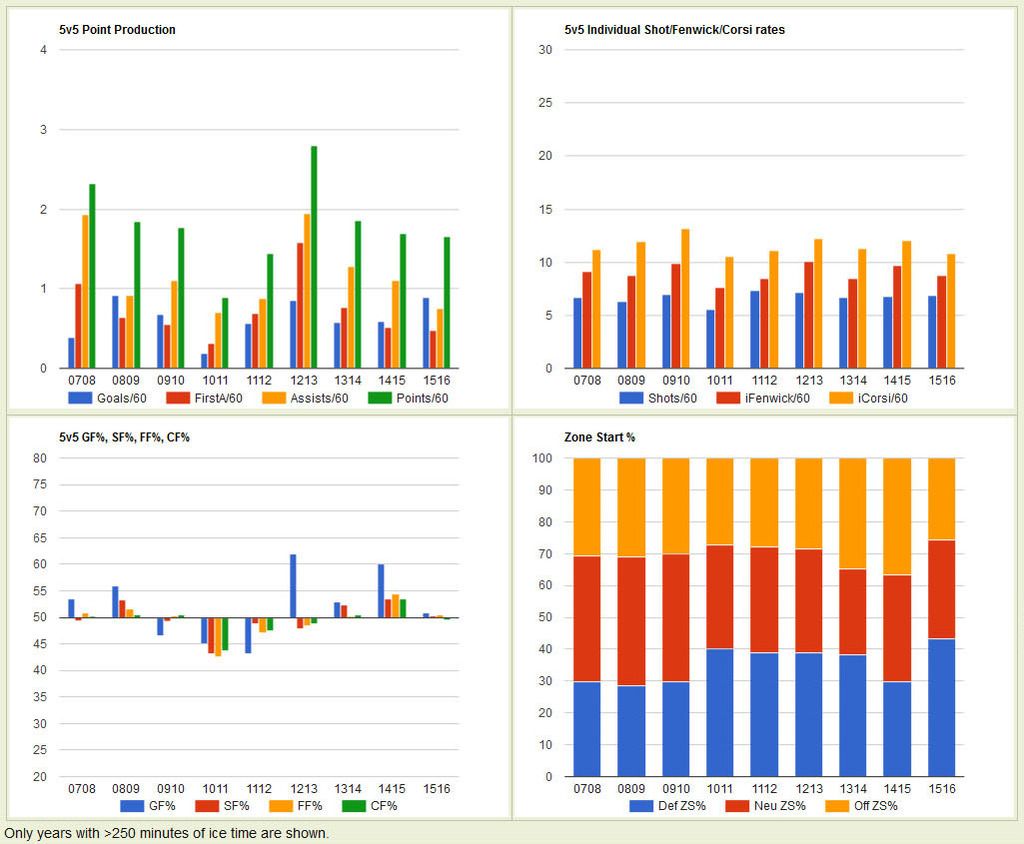 GIFs of the Year
1. Matt Cullen with ECQF game 3 winner that broke Henrik Lundqvist's spirit. Also, Dan Girardi and Keith Yandle, everyone!
2. Cullen with a terrific behind-the-net setup for Eric Fehr
3. Pierre and Matty (from RMNB)
***
Feel free to vote in the poll below to grade Matt Cullen's season on a scale from 1 to 10. Vote based on your expectations for him coming into the season -- i.e., 1 being "he was incredibly disappointing and I never want to see him again", 10 being "he was outstanding even beyond my craziest expectations".