Yesterday we started off our recaps with Matt Cullen, who produced 106 quality games in his lone season with the Pens. In a weird contrast, today we recap Beau Bennett, who managed a grand total of 129 regular-season and 21 playoff games in his four seasons with the Pens, 34 of which came in 2015-16. Let's take a look.
Age and Contract Status
Age: 24 (November 27, 1991). Completed a 1-year, $800K contract and was headed for RFA. Traded to New Jersey Devils during the draft for a 3rd-round pick.
Preseason Expectations
At this juncture, after three seasons of flashes interrupted by long injury layoffs, even I stopped having any expectations about Beau Bennett coming into the 2015-16 season. Long gone were the days I pictured him thriving on the Malkin or Crosby lines, and those fantasies were replaced by simply hoping he'd finish a game he started.
Verdict
Sure enough, Beau found himself on the injured list for the most part. He found some creative ways to get hurt, like lifting his arms to celebrate a goal against Montreal. I swear this kid has the worst luck in the world, because as Mike Johnston got fired and Mike Sullivan came in, Beau was actually in the lineup, and what happens in the first game Sullivan is coaching? TJ Oshie delivers him into the boards and Beau's chance to showcase his talent and value to the new coach goes out the window. Then literally in his first game back from that, he tries to play physical hockey (which is the absolute last thing Beau Bennett should do) and is out again.
In the end, Bennett managed to scrape together 33 games in the regular season, delivering 6 goals and 6 assists. His possession metrics remained steady and solid compared to previous seasons. When healthy, he's a top-6 quality player, but the fact remains that in the four seasons here we only saw short stretches of that.
Future
It turns out that there is no future for Beau Bennett and the Pens. On the second day of the draft Jim Rutherford traded Bennett and his impending RFA status to New Jersey Devils, where the man who drafted Bennett in the first round in 2010, Ray Shero, thought that a new beginning might be beneficial to Beau. The Devils ended up not extending a qualifying offer to Bennett, but there are still a few days before July 1, so in theory they could still sign him between now and then, which most expect will happen. At any rate, he's a good player and a great guy, and I'd always be happy to see him stay a little bit more healthy and reclaim some of that promise we've all hoped for would come in Pittsburgh.
2015-16 Stats
Bennett's even-strength stats shown below are from Stats.HockeyAnalysis.com.
Bennett's HERO Chart
(From Own The Puck)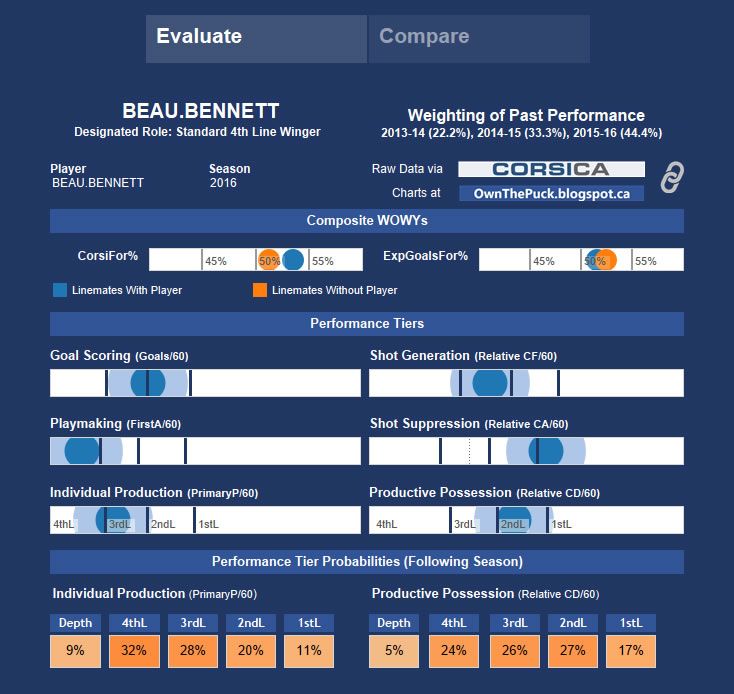 2015-16 Game-by-Game Analysis
(From HockeyViz, explained here)
Distribution of Teammates and Competition
(From HockeyViz, explained here)
Bennett's Four NHL Seasons
(From Stats.HockeyAnalysis.com)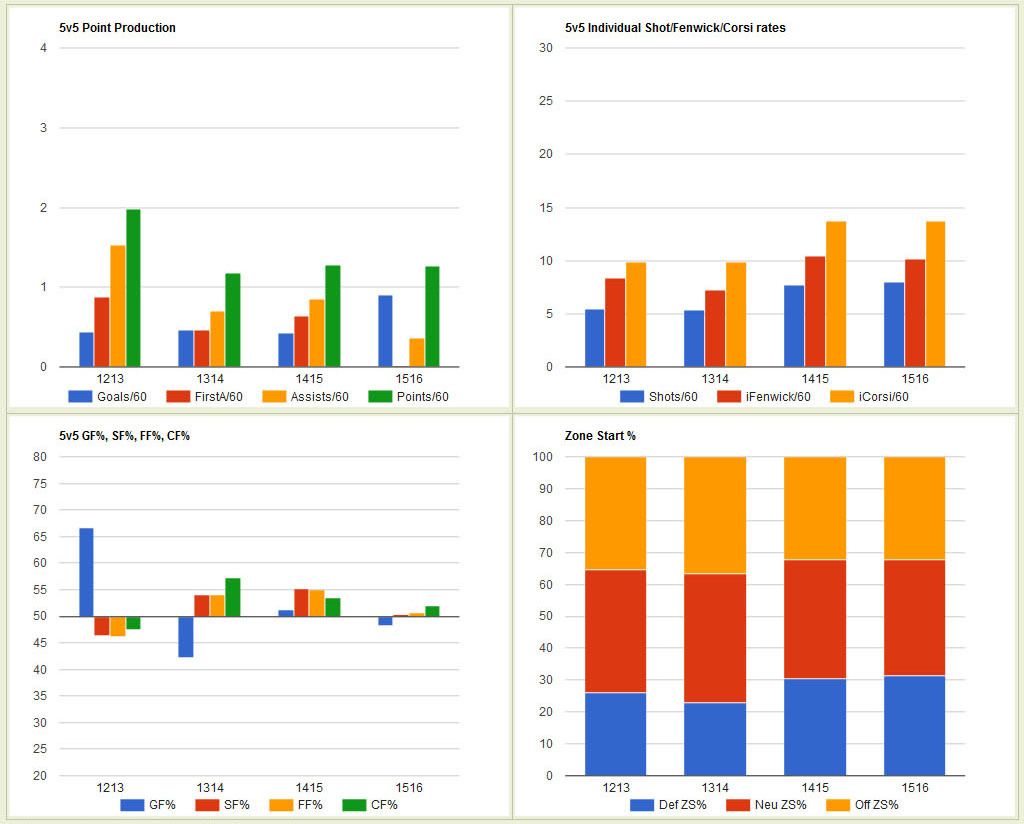 GIFs of the Year
Olli with a terrific redirect of a Phil Kessel shot and the Pens climb back against the Canadiens
Stanley Cup Final, game 1.
Beau is back! But alas. He actually tries to check a guy, misses for the most part and ends up going into the boards himself. Back to the doctor we go.
In the end, all's well that ends well, team success-wise. Beau got to skate with the Cup.
***
Feel free to vote in the poll below to grade Beau Bennett's season on a scale from 1 to 10. Vote based on your expectations for him coming into the season -- i.e., 1 being "he was incredibly disappointing and I'm happy he's out", 10 being "he is Beau Bennett and he's a white unicorn".