Age and Contract Status
28 (October 2, 1987). Signed through 2021-22 season. Toronto is retaining 15 percent of his salary, making Pittsburgh's cap hit $6.8 million.
Pre-Season Expectations
Getting a five-time 30-goal scorer, the best winger the Pens have had since Marian Hossa, came with sky-high expectations. All kinds of numbers were thrown around. 40 goals. 50 goals. 55 goals. Kessel scored at a ridiculous pace with Tyler Bozak as his center, so nothing seemed impossible when picturing Kessel skating to the right of Crosby or Malkin.
Verdict
In the end, Kessel did OK with Crosby and even more OK with Malkin. However, it was the unlikely chemistry explosion with Carl Hagelin and Nick Bonino that propelled the Pens up the regular season standings as March turned into April.
Individually, Kessel potted 26 goals and 33 assists in the regular season, good for third on the team in scoring. For the most part he did OK in the possession department. I don't know how reasonable it is to expect sizable shot suppression out of him, but to me that's a very minor quibble. In the end, his line out-generated the opponent for the most part, that's his game and it's hard to argue with its effectiveness.
Even if one argues that Kessel's regular season production was fairly pedestrian for a player of his caliber, he exploded in the playoffs for team-leading 10 goals and 22 points. He missed out on the Conn Smythe trophy by a hair in a very close vote, and had he won it, it would have been richly deserved.
Future
Six more years. Six more years of Phil at a very reasonable cap hit. Kessel has had quite a few full 82-game seasons under his belt. He's been an extremely durable player whose playing style is conducive to his durability. Phil is no stranger to playing through injuries either, given that he played at least the entire playoff (if not longer) through a hand injury that required surgery.
2015-16 Stats

More detailed 5v5 stats shown below are from Stats.HockeyAnalysis.com.

Penguins Player Usage Chart
(from Corsica Hockey)

Yeah. Well. You know Kessel will get a lion's share of offensive zone starts, but in the end this is what you got this guy for, to wreak havoc in the O-zone.
Kessel's HERO Chart
(From Own The Puck)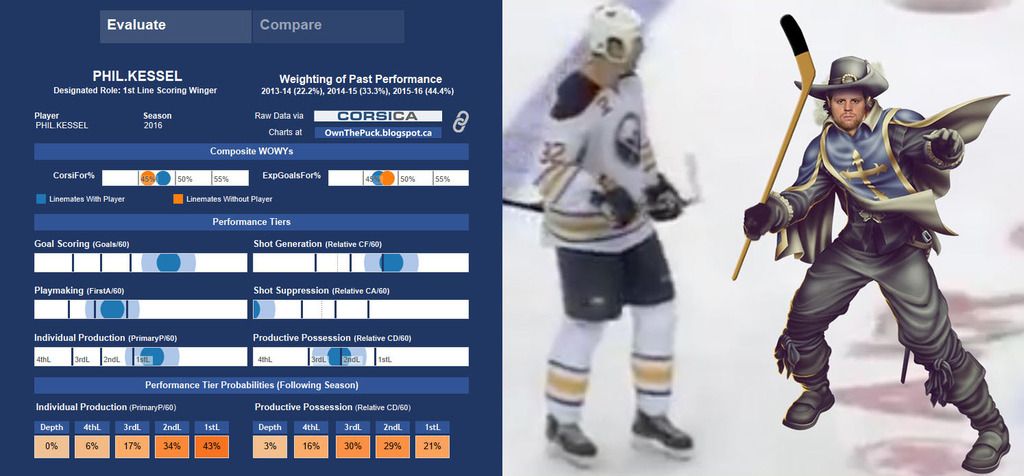 2015-16 Game-by-Game Analysis
(From HockeyViz, explained here)
Charting Kessel's past nine NHL Seasons
(From Stats.HockeyAnalysis.com)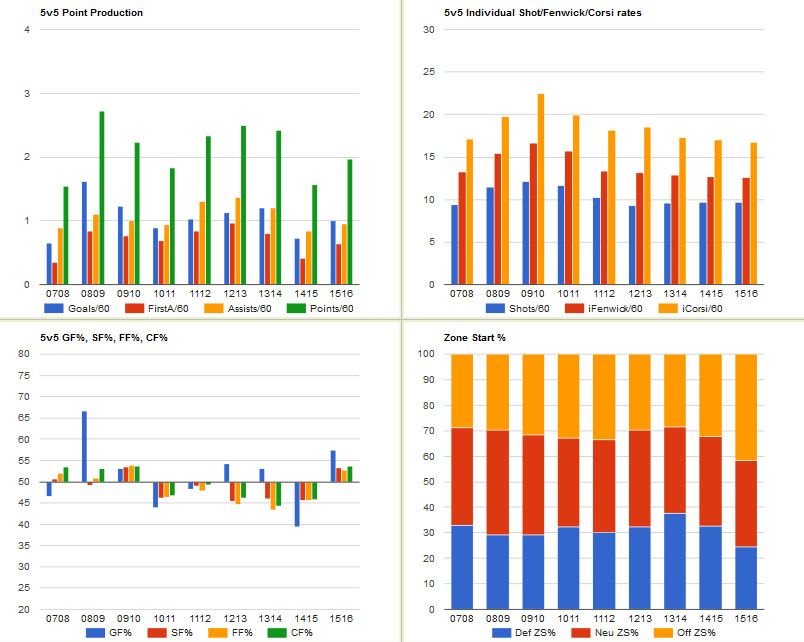 GIFs of the Year
Phil Kessel's first goal as a Penguin came in the preseason and it was a beauty. Crosby to Kunitz to Kessel for a great redirect. No chance for the goalie.
Second game winner in two games snapped a Caps win streak. Hey Metro buddies, nice to meet ya!
Kessel is underrated in many things, and passing is one of them. Look at this setup for Geno, and an equally ridiculous finish.
That wrister. Olli Maatta redirects, and Habs are toast.
The first round of the playoffs is underway, and Kessel is just getting warmed up. Tic-tac-toe, off to golfing the Rangers go.
It's the Stanley Cup Finals and the HBK line is on a tear. Hagelin to Bonino to Kessel, who has most of the net to himself. Good night, Mr. Jones.
Phil Kessel, an American hero. (Gif by @AndyCole84)
***
Feel free to vote in the poll below to grade Phil Kessel's season on a scale from 1 to 10. Vote based on your expectations coming into the season, with 1 being the lowest and 10 being the highest.