Age and Contract Status
Age: 21 ( August 22, 1994). Completed a 3-year, $2.775M contract with a $832,500 cap hit in 2015-16. In February 2016 Olli signed a 6-year extension worth $24.5M with a $4,083,333 cap hit, which begins in 2016-17 season.
Preseason Expectations
After a sensational rookie season that saw the 19-year-old Finn make the team straight out of training camp and stick around for good, Maatta's sophomore season started with a diagnosis of, and surgery for, thyroid cancer, followed by a bout of mumps, and culminated in second shoulder surgery in a 7-month span and getting shut down for the season in January of 2015.
Everyone understood that Olli needed a fair amount of time to recover from all of that in order to start the 2015-16 season on the top pairing with Kris Letang and shine in the spot made vacant by the departure of Paul Martin in free agency. At least that was the plan.
Verdict
Things don't always (or even often) work out as planned, and that was the case here as well. Olli was pretty good in the first 9 weeks of the season, when disaster struck again in the form of a Nino Niederreiter crosscheck into the Wild bench compounded by the bench door opening at the wrong moment. Olli would spend the night at the hospital with fears of internal injuries. Those fears were allayed, but he would lose several weeks recovering from that.
Unfortunately for Olli the team had to keep going without him. In the first half of December Jim Rutherford acquired a mobile defenseman in Trevor Daley, who found instant chemistry with Letang. Olli would eventually return from the November injury and play at an uneven level for the final two months of the regular season.
He continued with inconsistent play in the postseason, which was marred by another hit, this time by former teammate Brooks Orpik, who laid a nasty and completely unnecessary hit on Maatta away from the puck earning himself a 3-game suspension. Olli returned three games later but struggled again, especially defending against speed. After Alex Killorn blew by him for a score in game 1 of the ECF, Mike Sullivan opted to scratch Maatta in favor of Justin Schultz.
Olli got another chance to play because of Trevor Daley's injury and it was obvious that sitting him down for a while had a beneficial effect. Maatta played his best hockey of the playoffs in the games that mattered the most and was excellent in Stanley Cup Final. Down the playoff stretch Olli contributed six assists in the final 9 postseason games to finish his 2015-16 campaign on a strong note.
Future
Here is where things get interesting. Olli Maatta played his first three seasons on an entry-level contract with a $830K cap hit. His new contract kicks in next season and carries a $4.1M cap hit. That's a huge raise and a substantial cap hit, and for that to be worth it we need to see the same Maatta who finished the season strong in the Cup Finals. The Penguins have a luxury of Brian Dumoulin and Derrick Pouliot still playing on cheap deals, but Matta simply has to play well and consistently so. I have no doubt in his resolve and hard work - even Crosby has gone to coaching staff trying to get Olli out of the weight room - and I hope this kid gets rewarded with a full season of consistent play and success will come because he has the rest of the attributes needed to become a terrific blueliner. I think we sometimes forget that Olli is only 21 and still the youngest defenseman on the roster.
2015-16 Stats

Maatta's even-strength stats shown below are from Stats.HockeyAnalysis.com.

Maatta's HERO Chart
(From Own The Puck)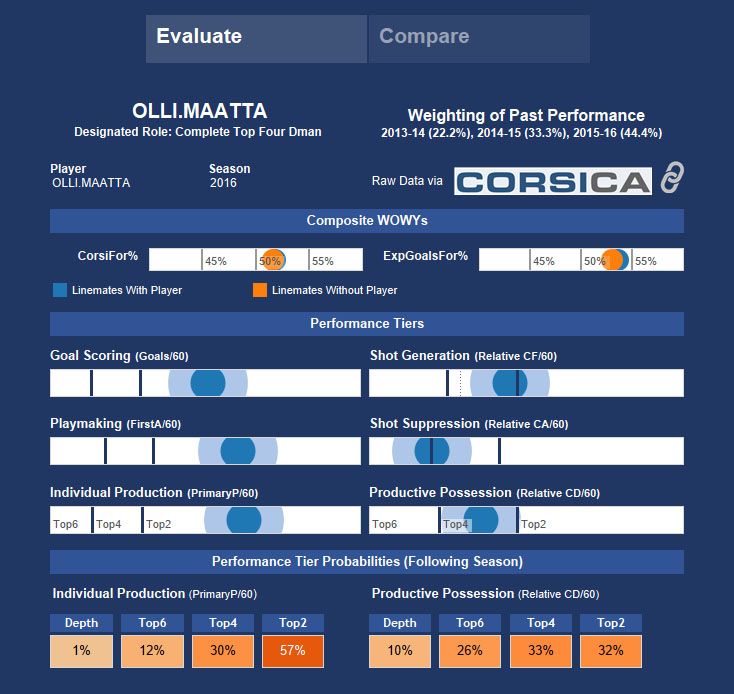 2015-16 Game-by-Game Analysis
(From HockeyViz, explained here)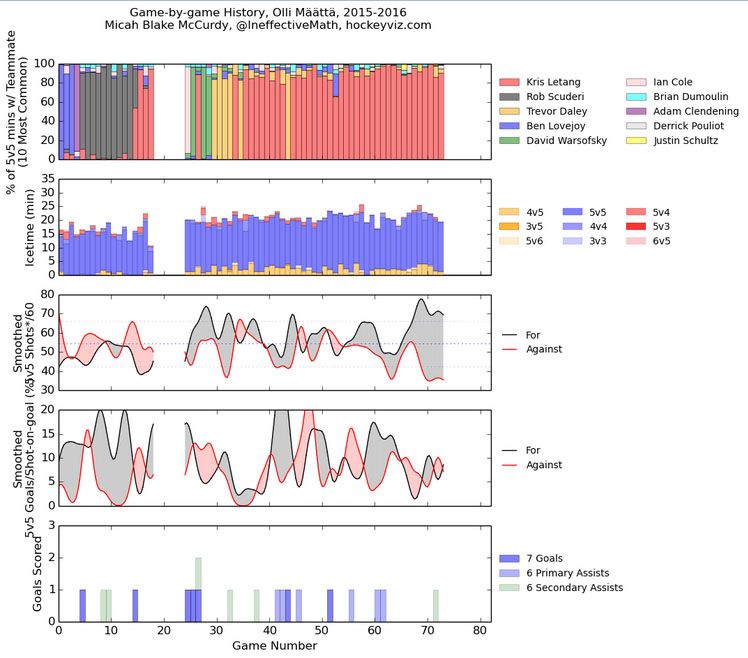 Charting Maatta's Three NHL Seasons
(From Stats.HockeyAnalysis.com)
GIFs of the Year
Olli with a terrific redirect of a Phil Kessel shot and the Pens climb back against the Canadiens.
Olli Maatta scores a pretty one against the Islanders.
Brooks Orpik goes crazy, injures Olli and gets himself suspended for three playoff games.
***
Feel free to vote in the poll below to grade Olli Maatta's season on a scale from 1 to 10. Vote based on your expectations for him coming into the season -- i.e., 1 being "he was incredibly disappointing and I want him out now", 10 being "he exceeded my craziest expectations".