Age and Contract Status
Age: 27 (August 23, 1988). Completed the first year of a 4-year, $16M contract with a $4M cap hit in 2015-16.
Post-Trade Expectations
As the Penguins were entering the new year under the Mike Sullivan regime, it was becoming clear that the David Perron experiment in Pittsburgh was done. Jim Rutherford tackled the problem head on and in the wee hours of January 16 sent Perron and Clendening to Anaheim for Carl Hagelin, who has been having an underwhelming first season with the Ducks, having scored only 4 goals by that point in the season.
By subtracting David Perron, Rutherford unloaded an impending UFA who was no longer a good fit for the team. In reality, Carl Hagelin was meant to replace Pascal Dupuis, whose speed and penalty killing was sorely missing. In addition, Hagelin was known to be an excellent possession player, which was something else the team hoped would continue.
Verdict
Initially upon arrival in Pittsburgh, Hagelin played with Malkin and Kessel and the line was doing fine both scoring- and possession-wise, primarily because Hagelin and Kessel had instant chemistry. Following Malkin's injury in early March, Nick Bonino filled his spot and the three-headed monster was born.
Looking at Hagelin specifically, he was certainly put in a much better position to succeed in Pittsburgh. In the stats table below I circled some numbers that jumped at me compared to his time in Anaheim, most notably the favorable shift in regards to zone starts. His possession numbers increased as well as his shot percentage, resulting in scoring going nearly off the charts. Hagelin didn't miss a beat in the playoffs, potting 6 goals and 10 assists, which is not too shabbyfreakin' fantastic.
Future
Hagelin is under contract for three more seasons at a very reasonable $4M cap hit considering what he brings to the team. I am honestly still pinching myself he's a Penguin now. I literally fell out of my beach chair watching this goal and, while we might be setting our expectations to unrealistic levels, this is just how great a fit he is for this team. Buy Hags a drink and get his dog one too!
2015-16 Stats
More detailed 5v5 stats shown below are from Stats.HockeyAnalysis.com.
Hagelin's HERO Chart
(From Own The Puck)
2015-16 Game-by-Game Analysis
(From HockeyViz, explained here)
Charting Hagelin's last five NHL Seasons
(From Stats.HockeyAnalysis.com)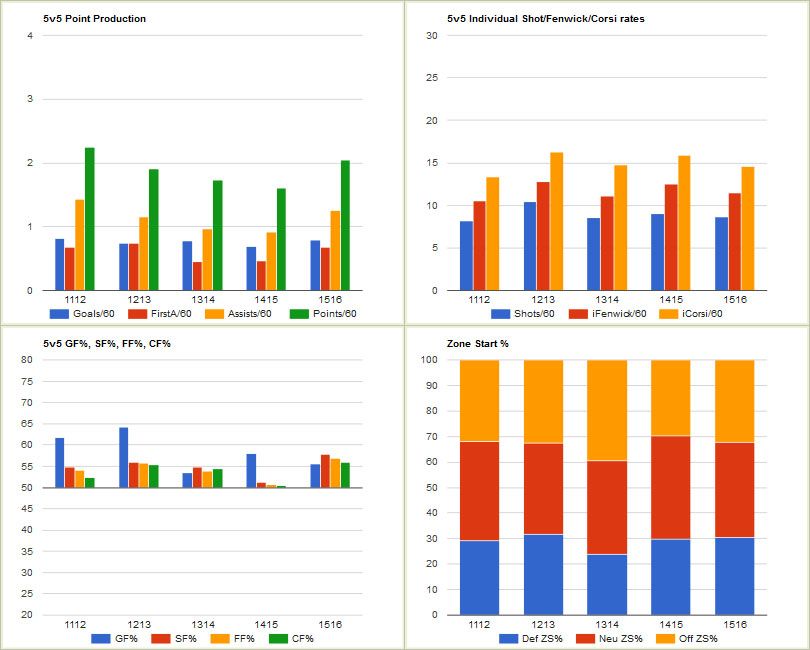 GIFs of the Year
March was when the HBK line really got going. Speed kills.
Hagelin sends a nice feed across to Fehr, who wrists one by Martin Jones to pad the Penguins' lead.
It was that kind of season for Carl Hagelin.
***
Feel free to vote in the poll below to grade Carl Hagelin's season on a scale from 1 to 10. Vote based on your expectations following the January trade -- i.e., 1 being "he was incredibly disappointing and I want him out now", 10 being "he exceeded my craziest expectations".